In 2016, David and Matt drove from Perth to Adelaide to demonstrate that such journeys in an EV are quite possible – at that time, there was no specific charging infrastructure, but of course, you can charge an EV wherever there's a plug.  There is much more infrastructure even in the two years since.
David's report follows: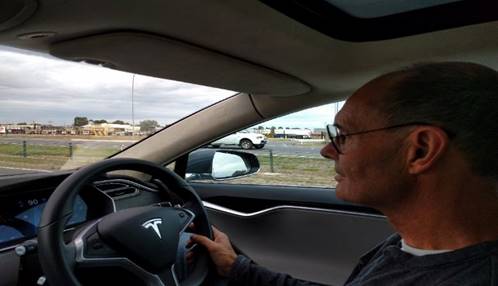 Matt and I planned this trip to prove an Electric Vehicle, a Tesla in particular, could drive from Perth to Adelaide across the Nullarbor, without purpose built chargers or facilities, and without having to camp in caravan parks with slow charging. The fastest the car can charge from AC is 32A 3-phase which provides 100km of range per hour, and this is what we wanted to use.
The Tesla performed brilliantly. We had planned dawn to dusk driving or charging for the first three days, and all daily destination targets were achieved. Auto-pilot drove most of the way and only faltered when we crossed into South Australia into the rising sun where the contrast between the road markings and the surface was very low.
On day 1 we charged in Merredin (at CBH grain silo) and at Southern Cross Town oval.
Merredin Town was the only one to say they could not help, but the CBH manager lent us his ICE to drive into town whilst the Tesla was charging and we found 3-phase at the Nissan dealer who agreed to allow EVs to use it in the future. We then walked round the Town recreation centre and found two 3-phase outlets which reception said we could use – we took photos of them back to the town council to gain official approval for next time.
We had to reach Kalgoorlie by 4pm for the local press and welcoming committee at Main roads, and our electrons were running low. Normally we would just reduce speed from the standard speed limit to improve efficiency but we couldn't do this because of our deadline, so we arrived with 11km in the tank. Matt had to do a few demonstration launches and by the time we got to our night charger at the Oasis centre we had exactly 1km in the tank. Not an electron wasted. We knew we were charging by the netball court, but we were directed actually onto the courts, which felt secure with fences round us. When we got back later the courts were all full (except ours) and we had to wait until the game on the neighbouring court finished to drive out.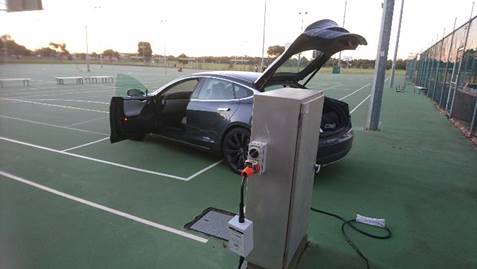 On day 2 we left 15 minutes late, charged at Norseman Town oval and so got to Balladonia road house 15 minutes late. Here the outlet was in an awkward location and we wanted to prove that we could still get close enough (rather than use our new 3-phase extension lead). Matt managed to fit into the tight space with 50mm margin on both sides. The manager Gregg promised to move the obstruction in time for Matt's visit on the way back and for future EVs. However, this cost us another 15 minutes so we were 30 minutes late  leaving Balladonia.
It was getting near peak roo time so we slowed down, and the car watched the road ahead and kept us perfectly in lane whilst Matt and I were free to scan the bushes on either side. No worries in the end, except we arrived an hour behind schedule in the dark.
The later arrival presented a problem for the following day since we only had 15A single phase charge at Caiguna and we needed a full tank to make the next 3-phase at Border Village. 14 hours of charging would achieve this but we only had 13 hours to dawn when we had to leave without a full charge.
We left next morning missing a few electrons. Although we knew there was not much altitude difference over the whole day, our power use initially was too high at the speed limit. It turned out we were climbing steeply to the Madura pass before descending the escarpment into SA. But we don't regen all the extra power we use on the way up, and it is not comforting when the car is panicking and telling us we will not make our destination and to turn round immediately – we reduced speed to 80-85km/h to hold the range left on arrival to be greater than zero, and road trains started whizzing past.
We stopped to spruik Teslas and try to convince the roadhouses on the way to accept the sockets we were providing free, and are hopeful of Cocklebiddy and confident of Mundrabilla. Next time this gap will be bridged. We had now stopped climbing so the power drain was less, so we decided to catch up to one of those roadtrains which had overtaken us and set the Auto-pilot to one car gap and accept the slipstream. Magic – our power use dropped dramatically and we were able hold 102km/h most of the way to Eucla.
At Eucla we had 12km to go to Border Village with 12km in the tank. We stopped to do some more spruiking and discussed taking a 15 minute charge even at 15A or to go very slow climbing through the Eucla gap.
At Eucla the receptionist said no, they didn't have 3-phase power and what was it anyway, that the manager was not available and that she did not know about electricity. I asked to speak to the person in charge of maintenance, and the receptionist said he could be anywhere on site. Did he have a mobile phone? Yes. Do you want me to ring him? Yes please. But when Dave arrived he said no worries and plugged us into a beautiful 32A 3-phase at the laundry. The manager Amanda then appeared and we agreed a cost of 88c/kWh and even persuaded her to accept a free Tesla HPWC for next time (if Tesla approve this site).
So we arrived in Border Village with plenty of electrons and only did a courtesy charge there on the socket we had supplied. In fact, we were restricted to 22A from this outlet because of doubts about the wiring, so it was fortunate that we did not actually need a charge here.
We were now 30 minutes behind schedule but arrived at Nullarbor Roadhouse just before sunset, to plug into another of the sockets we had supplied.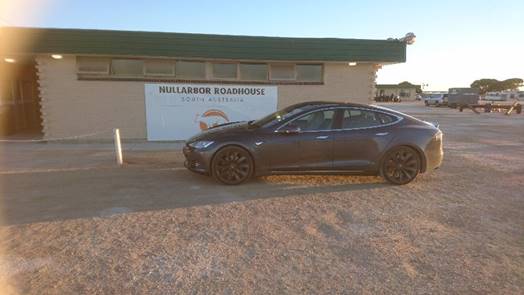 The last two days were planned to be easy, with some spare time in case of problems in the first three days.
Matt took the manager Ross for a few launches at sunrise the next day (4), then we left across the true treeless plain to Penong Caravan park where a 20A and a 32A 3-phase awaited. We tested both successfully and then settled on the 32A and went to the Penong Hotel for a small pint. Soon Visible Tesla advised us that charging had ceased, so we rushed back to find the 32A could not hold the current and dialled it down to 26A. This put us behind schedule again and we tried pushing back up to 29A which held. The manager Graeme promised to look at this for next time.
At Ceduna Men's shed the reception committee had left, but Matt said he would catch them on the way back. The car decided the 20A socket here was not fit for more than 15A, so we had more time to chat with Rodney and the local electrician Jamie. Karen at Poochera Hotel was very welcoming and we were soon plugged into one of her bar customer's workshop across the road. Although this socket held 20A well, we decided to dial it down to 15A since this would be sufficient overnight. Payment for the electricity was by means of a bar tab with Karen, and she advised that she could ensure a 3-phase outlet would be available to any future EVs staying with her, on the same basis.
The next day seemed too easy, with the 50A outlet on offer at Kimba hospital and 32A at Port Augusta main square. But our 32A plug did not fit into the 50A socket, so our hospital contact took us into town to Bridgestone Tyres where Charlie said no worries. He had just had a new 20A 5-pin wired up, and by parking in a neighbours drive and snaking our extension lead, 32A to 20A converter/ cut out and 20A plug through his workshop we could reach it. However the car did not detect any supply so we deduced that the neutral had not in fact been connected. Charlie would now get the sparky back but in the meantime had another 20A even deeper in his workshop. We were now very glad we had bought the 10m 3-phase extension cable the day before we left. After donating a couple of bottles of WA wine we left with sufficient charge for Port Augusta. On the way Iron Knob offered cool drinks so we went in to find a ghost town taken over by Emus, and no functioning facilities. We arrived in Port Augusta to find the green box housing the 3-phase sockets locked, and the receptionist at the Town council knowing nothing about it and not able to contact Daniele. We left a message for him on his mobile and started to explore the area in 3 phase outlet search mode, soon discovering a 50A attached to the back of some automatic loo facilities. We wanted to settle the question of 32A plugs into 50A sockets so plugged in and after a bit of elbow grease made the connection. We were plugged into our own facilities, but had to park on the grass to avoid cables across the footpath. We were also in full view of the Town offices so it wasn't long before rangers came to protect their grass and their loo. Fortunately were able to show our email exchange with Daniele and suddenly the key to the green box was found and we moved to an official parking spot there, which only involved a 2m cable across the path. We were instructed to remain with the car at all times and to replace the lock once we were finished. We charged to 90% hoping to use the Percedos charger out of the door of our room at Hotel Flinders to top off overnight (and to avoid the batteries sitting at 100% for long). Unfortunately we were iced in, although Matt did manage to add 90 minutes of charge at 9A early the next morning.
The last day was too easy with a strong tailwind and we drove the 320km to Adelaide at the speed limit (no plus offset because of the average speed cameras) with 60kms to spare. I had been unable to use auto lane change, and only discovered in Adelaide that I had not enabled this in my personal driver settings!
The power for this 2850km trip was supplied free by the town councils, but
we paid a total of $140 to the various commercial locations. We also gave Ceduna Men's shed a donation of $50 and supplied outlets to Nullarbor Roadhouse and Border Village costing $41 each.  We also bought a 10m, 32A 3 phase extension cable for $313.
Although this trip required detailed planning, with several reserve locations since we were not sure what we would find at each location (access, wiring, compatible outlets), it should now be easy to replicate since the details of all visited outlets are on  Plugshare.
The gap between Balladonia and Eucla is now bridged at Mundrabilla and
Cocklebiddy, so there will be no need to charge on single phase anywhere between Perth and Adelaide. We took 5 nights on the way and visited more chargers than necessary (to test them out and talk Tesla), but only 4 nights were really required, and less if driving after dark.
Western Australia is now connected to the rest of Australia by fast AC outlets.