Pete Petrovsky 26 Nov 2021
One of the comments that gets the most eyebrow-raising reactions when talking about Tesla cars, is the fact that, for most owners, a Model 3 works out considerably cheaper than an average Australian car. Although some people are beginning to understand that an electric vehicle (EV) is less expensive to run than an internal combustion engine (ICE) vehicle equivalent, it's hard to come across a non-EV owner who isn't surprised to learn that, if all major costs associated with owning a car are included, a Model 3 Rear Wheel Drive (formerly known as the Standard Range Plus) works out thousands of dollars cheaper over just a short three-year period of ownership.
I like to explain this with a second-person hypothetical. Let's assume that you decide to buy a Model 3 Rear Wheel Drive (RWD) today and your neighbour also buys a vehicle on the same day, but instead they choose an average Australian car, something along the lines of an average Ford, Toyota, Volkswagen, Nissan, Subaru, Honda or similar. The longer the ownership period the more favourable the outcome for the Model 3, and even thought the average Australian car is more than 10 and a half years old, let's assume that both you and your neighbour sell your cars after just three years. If we take into account all significant costs, including the upfront drive away cost, a.k.a. the sticker price, and if we include depreciation, fuel costs, maintenance, insurance as well as registration and licencing fees, after all is said and done, you will be left with almost $14,000 more in your bank account than your neighbour who bought the average Australian petrol or diesel car. That's a substantial amount of money, it's enough to buy a second new car. Many people are either astounded by this or they simply don't believe the figures. I have therefore provided a summary table of my calculations, below.
As with all calculations, the devil is often in the detail and assumptions can make or break even the most robust models. Where possible, I have therefore, tried to only use robust figures from reputable sources which I can readily substantiate. For example, as the Model 3 has only been in Australia for a little over two years and with the current resale values being elevated by unique market dynamics stemming from the Covid-19 pandemic, I have based the depreciation rates on the iSeeCars.com study which analysed 5.7 million new cars bought in the united states between January and June of 2017 and 1.2 million cars from the same model year sold between January and June in 2020. I have tested the model to the sensitivity of the inputs and, interestingly, even if we were to halve the depreciation rate used for the Model 3, while keeping the depreciation rate for the average ICE car unchanged, the Tesla would still come out more than $7,000 ahead.
I have also used Australian unleaded petrol prices averaged over a 10-year period from 2011 to 2020 inclusive, however, rather than using average Australian electricity prices for the same period, I have simply used the latest (and also the highest) average Australian tariffs even though, as most electric vehicle owners know, there are several EV friendly tariff plans available to EV owners. Furthermore, as is the case with many EV owners, the cars can be charged using electricity produced by solar photovoltaic (PV) systems. Once the solar PV system has paid for itself, it can effectively provide free electricity for its owners who mostly either charge at home or at convenient destination chargers such as those located in shopping centres which are generally complimentary. It is, therefore, not impossible to fuel an EV at virtually zero cost.
For the servicing and maintenance costs, I have used prices sourced directly from Tesla, but I have used average logbook service costs which include capped-price service schemes as well as prices taken from lower-cost third-party service centres. For more information, please see the video below which reveals that the Model 3 costs about a third as much to service over a 5-year period than the cost of a single service for an average Australian car. In other words, it costs less to service the Model 3 over a three-year period than an average Australian internal combustion engine (ICE) car over six months.
Although, I have been conservative with the inputs in the calculations, with the Model 3 RWD (nee SR+) starting at a drive-away price of $63,626 as an average across all the states in Australia, versus approximately $40,912 for an average new Australian car, one could argue the analysis ignores the additional finance costs. As the table below shows, however, even after factoring in finance costs, the Model 3 still comes in $12,617 ahead of an average Australian internal combustion engine car.
Whether it's $12,617 or $13,679, either way, it is a relatively large sum of money, as I have mentioned, it's enough to pay for a second new car, but amazingly this is not where the savings stop. You may have noticed, there is one category, namely insurance, where the Model 3 is more expensive. That said, while insuring a Tesla may be more expensive in absolute terms, mainly due to the higher car value, personally, I have found the premiums cheaper relative to the insured value of the vehicle and the Australian average figures seem to be roughly on par in this respect with the annual premiums accounting for between 3–4% of both of the cars' drive-away price.
Interestingly, however, this is one of the areas where Tesla continues to innovate. Two years ago, Tesla introduced its own insurance product in California, named Tesla Insurance. As Tesla begins to slowly roll out the product across other US states, the company is pairing the policies with its Safety Score telematics which, as the name suggests, provide the driver with a safety score based on their driving behaviour which is designed to statistically predict the likelihood of a future collision. Tesla bases the monthly insurance premiums on each driver's Safety Score, and as the score changes the insurance premiums also change from month to month. Tesla calls this Real-Time Insurance. Naturally, the higher the safety score the lower the premiums. For example, there can be more than a 56% premium discount based on a 98% versus an 88% Safety Score. It remains to be seen when Tesla introduces the Safety Score to Australia or when Tesla enters the Australian car insurance market but when it does it will make the economics of the Model 3 even more compelling not only for new owners but also for existing ones.
The only other area where a Tesla Model 3 is more expensive than an average internal combustion engine or ICE car is the upfront cost or the sticker price. This is where state and federal governments should play their part, it's crazy that we're still subsidising fossil fuels while taxing electric vehicles.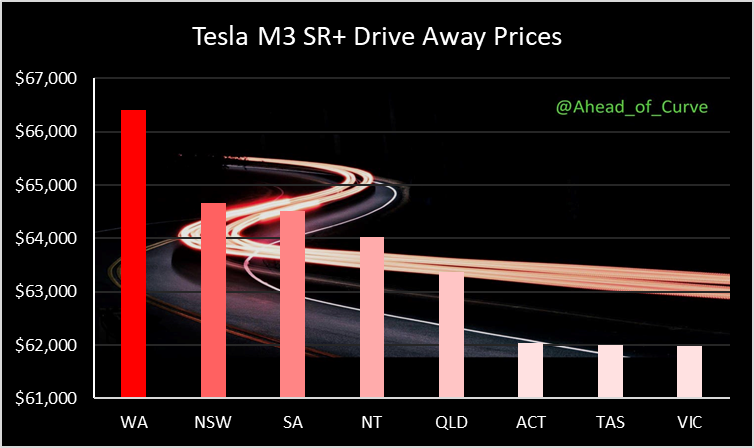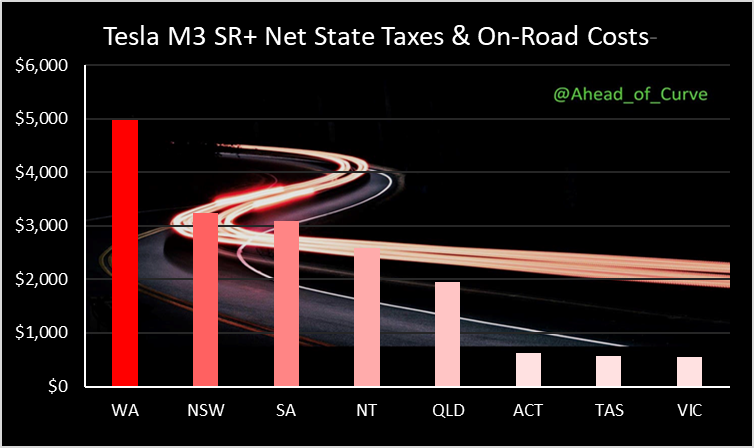 That said, Tesla is working on a US$25,000 model commonly referred to as the 'Model 2' but Elon Musk has already confirmed this won't be the car's name, perhaps it may end up being named the 'Model A'. Once it is unveiled and when it eventually goes on sale in Australia, it may retail below or roughly at around the price of an average petrol or diesel car thereby not only putting the economics of an entry-level Tesla even further beyond any question, but it will inevitably become the final death blow to the internal combustion engine as a means of powering a daily commuter.
It is fairly amazing that the Model 3 has economics which are superior to an average Australian car because implicit is the assumption that the two are a like-for-like comparison when, in reality, nothing could be further from the truth.
The fact is that a Tesla Model 3 is superior to an average internal combustion engine vehicle in pretty much all aspects including:
Performance
Convenience
Entertainment
Practicality
Technology
Australian made content
Furthermore, unlike most cars which are the best they will ever be the day they are driven off the dealership lot, the Model 3 continually improves via mostly free over-the-air (OTA) software updates.
The impressive yet not exhaustive list below outlines just some of the additional features which have been added to my Model 3 since I bought it a little over two years ago:
a boost of approximately 5km more range,
approximately 5% more power,
single pedal driving,
dog mode,
camp mode,
side camera video feeds,
Netflix,
YouTube,
a long list of new voice commands including voice keyboard,
ability to have incoming SMS messages read out and the ability to dictate a response,
driving visualisation updates including displaying humans, stop signs, traffic lights and even objects such as traffic cones or witches hats, rubbish bins, traffic barriers and so on,
automatically save dashcam footage on honk,
'Caraoke' and a raft of new video games,
driver profiles,
ability to adjust the charging rate via the app,
app customisation,
car-wash mode,
Smart Summon which enables the car to drive itself from up to 50–60 metres away in a car park,
and a raft of driver assistance and Autopilot improvements such as the ability to monitor the speed of traffic in surrounding lanes and, if required, overtake other cars. The car can also stop on traffic lights, stop signs, roundabouts and so on.
These are just some of the additional features added over the last 2 years, but it doesn't stop there, as innovation and improvement seem to be a continual ongoing process at Tesla. There are many new exciting updates on their way including the Full Self-Driving (FSD) capability beta button, the Safety Score beta, the FSD subscription service, the ability to detect wet road conditions, remote live sentry view, in-car purchases and these are just some of the upcoming features we currently know about. I'm sure there are dozens of more improvements in the pipeline which we are yet to find out about.
Furthermore, this is just what I either happened to notice or read about in the software release notes, but the car has also been improving its already unmatched safety with undocumented updates like safer airbag deployments adjusting for occupants' weight and seating position. In other words, the airbags now adjust when, how fast and in what direction they deploy depending on where on the seat the driver is sitting. The algorithm also considers the pressure distribution on the car seat to determine if the passenger is a baby, a toddler or an adult and it even tries to calculate the probability of a person's gender.
In addition to the over-the-air updates, the cars are equipped with all the hardware necessary to enable full self-driving (FSD) in the not-too-distant future. One could argue that this makes the cars themselves but perhaps also the economics largely future proof. Perhaps this and the potential that FSD may one day be worth US$100,000 is an important factor contributing to the Model 3 showing a depreciation rate that is 25% lower than an average car.
Does this mean that a Model 3 or a Tesla for that matter is the right EV or even the right car for everyone and for every situation? No, of course not, but taking into account FSD improvements, in the majority of situations, the Model 3 and Model Y superiority, not only in economic terms but also in terms of both the quantitative and the qualitative value they offer their owners, makes one wonder if we haven't already reached the point which Elon Musk referred to when he compared driving anything other than a Tesla to owning a horse or as he further elaborated, it is "financially insane to buy anything other than a Tesla".
Pete Petrovsky
Pete Petrovsky is an active TOCWA (Tesla Owners Club of Western Australia) committee member and a long-time EV enthusiast. He placed a $6,000 deposit for a Model X (#39) in 2014 but when it came to taking delivery he couldn't justify the cost, so instead, he and his wife decided to buy two PHEVs and wait for the Model 3. In March of 2016 they bought the Holden Volt and a couple of weeks later the Mitsubishi Outlander PHEV, and on the day it was unveiled, Pete ordered the Model 3. After selling the Outlander, in September 2019, Pete took delivery of the Model 3 and despite still loving their Volt, Pete and his wife are now looking forward to ordering the Model Y as soon as it becomes available in Australia.
When he gets time, Pete posts videos on his 'Tesla Ahead of the Curve' YouTube channel. He is a long-term Tesla shareholder and over the last eleven years has been responsible for more commercial rooftop solar PV in Perth than any other individual. In 2016 Pete added grid electricity to his role and since October 2020 he has been Managing Director of Imppact Energy Consultancy. In July of 2011, Pete also installed one of the first 'oversized' 6KW solar PV systems in Perth, which to this day continues to power their home and both EVs with free sustainable energy.