Test Number 2
After seeing the results from test number 1, How much do 19 inch tyres and wheels improve the performance of a Tesla Model Y, it was decided to do a second 272 km test (along the same route) between the same Model Y Performance with 19 inch Gemini wheels and tyres and a Standard Model Y with exactly the same wheel and tyre set-up.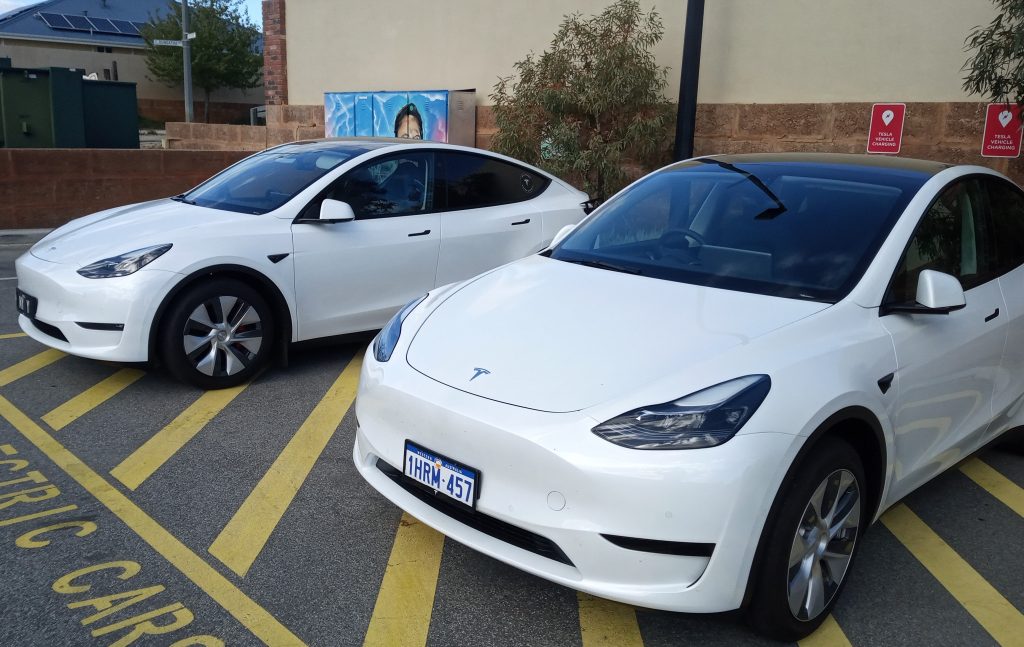 The clear difference between these two vehicles is their drive units. The Performance Y has dual motors with a maximum of 393kW power, whereas the Standard Y has a single motor producing a maximum 194kW. The Performance Y is 88kg heavier than its standard range stable-mate due to a combination of different-sized battery packs (and chemistry difference) and the extra weight of its additional motor. The operating parameters of the two cars were identical with tyre pressures set to 42 psi cold, air conditioners set to 22°C and the same number of occupants in each car. You can read in the initial test all the steps taken to obtain an untainted result.
Model Y
Performance
19″ Gemini
Model Y
Standard
19″ Gemini
Leg 1
31km
206Wh/km
198Wh/km
Leg 2
105km
164Wh/km
165Wh/km
Leg 3
105km
153Wh/km
156Wh/km
Leg 4
31km
98Wh/km
105Wh/km
Total
272km
157Wh/km
158Wh/km
Test start 9.05 am, completion 12.42 pm. Weather, clear skies temp 13 – 20°C. Moderate wind from the same direction for the whole test which reflects in the result for Legs 2 & 3.
Please note the Performance Y once again recorded a total trip of 271 km over a 272 km journey, the other two test cars both recorded 272 km.
Although the Performance Y is heavier than the Standard Y and also has a second drive unit which slightly adds to mechanical friction losses, these disadvantages are likely compensated for by it being about 14 mm closer to the ground. Since reduced ground clearance enhances efficiency at higher speeds, a test in stop/start city conditions would likely slightly favor the Standard Model Y.