Over the past 7 years we have stayed in every state and territory of Australia and charged overnight at well over 100 different caravan parks, cabins and other accommodation that fall under the category of tourist parks.
There are some great sites, many over the top with attractions that never existed 30 years ago. Some are dusty, run down, patched together and best described as rustic. Some owners and managers are very EV friendly, others spend too much time watching Sky After Dark and will grudgingly let you plug in only to provide a running commentary on why EVs are City cars (even though you're at a site 1200kms from Darwin). The one constant is getting a charge is always possible and, although slow, extremely convenient while you're relaxing.
The majority of locations have enough power to supply a full park of Caravans or RVs on a hot afternoon. However be aware that some have issues due the business expanding faster than expected, they are pushing their luck and eventually come unstuck just before dinner time on a hot day when the power shuts off. This shouldn't be happening with a correctly built power system but on the rare occasion it does. Generally the power outage forces all the Grey Nomads to shut off their air-conditioners and venture outside thus easing the load when power is restored. A second issue to look out for are power outlets in poor condition due to having a hard life from careless tourists and a harsh coastal climate. If you think the power outlet looks dodgy find a better one, always take the safe option.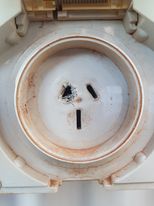 Tourist Parks factor in the cost of electricity to any site fees, a powered site is normally $8 to $15 more than an unpowered site. That does not mean you have full rights to plug in and charge for 20 hours straight, random power consumption of non EVs has been factored in not an EV potentially consuming 60kwh on one nights tariff. On most occasions I would suggest you offer to pay extra to charge the car, especially at a smaller privately owned business, very often the reception will refuse payment because you asked politely. Remember to wear your diplomatic hat for the benefit of you and the following EV owners.
Tips when plugging in:
Avoid using extension cords when possible. The only time I've needed one is when using a Tesla Gen2 UMC with the flat plug, these are difficult to fit it to many power bollards. If you do require an extension cord use the shortest 15amp possible.
Avoid making your charging cable a tripping hazard, keep some slack on the ground under the charge port and tape the cable to the lower section of the bollard so charging doesn't get interrupted by someones foot on a dark evening.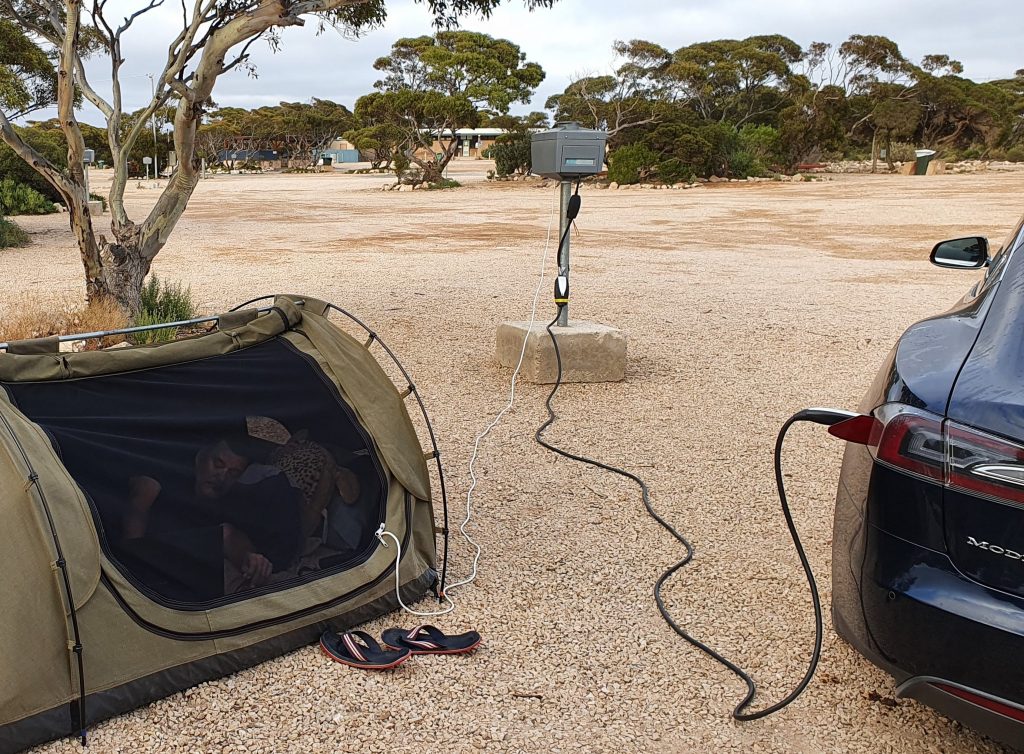 If you have plenty of time to get enough charge required for the next leg of your journey set the amps lower and charge slower for longer, this way there's less chance of any charging interruptions that could delay your morning departure.
Don't be concerned about charging in the rain but do keep the charging unit off the ground in low lying areas as most tourist parks have firm ground with poor drainage.
Last of all don't forget to turn off your air conditioner while charging, if you don't plan for this extra consumption the charge percentage the next morning will be far less than expected.