10 JUNE 2021 BY PETE PETROVSKY
As some may have noticed, a couple of months ago, Tesla's supercharger map had two exciting and long awaited W.A. updates.
The Perth Supercharger location was assigned the Q1 2022 timeframe, and,
A new location referred to as "Perth North" popped up with a Q3 2021 timeframe.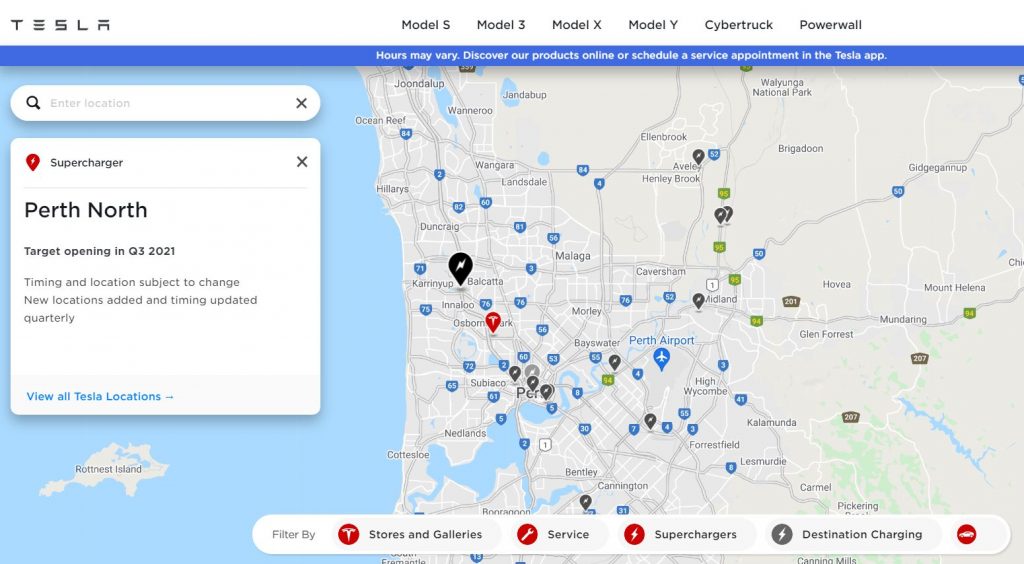 As we know, the location of the supercharger icons on the map are not designed to be precise or provide an accurate indication of the location, therefore, the question is where will the latest WA supercharger be located.
In my view, it would be ideal to locate it in Joondalup as it would be an ideal location for:
1. those heading north to Jurien Bay etc. Joondalup would also put Dongara and potentially Geraldton within reach, and then on to Kalbarri, Monkey Mia, Carnarvon and so on.
2. those coming back from north of Perth, for example Jurien Bay, Geraldton etc could charge at Joondalup and then have enough to travel around Perth or comfortably reach the Eaton Supercharger,
3. those living in apartments in Joondalup who have little if any options to charge. (Joondalup has the second highest apartment dwelling population of any suburb of Perth after the CBD),
4. those living north of Perth who feel uneasy buying an electric car with the most northern DC charger being all the way in Gwelup (an approx. 25 min drive from many northern suburbs near Joondalup and potentially longer in traffic) Understandably, most charging occurs at home, however, if one forgets to charge, or the power goes out and there is another issue it makes the EV purchase decision easier if you know there's a fast charger within a 5 to 15 minute drive.
5. Joondalup has aspirations to become Perth's biggest satellite city with approval to build high rise buildings such as the 18-storey Arthouse completed in mid 2020.
6. Wanneroo which is adjacent to Joondalup is Australia's 5th fastest growing council with the Wanneroo and Joondalup population projected to reach 800,000 by 2070. (The current population of Perth, is less than 2 million.)
If the thinking is that the primary purpose of the supercharger is to address the long-distance trip market rather than serving the surrounding suburbs, then another good location is the Drover's Marketplace and Leap Frog's Botanic Gardens, Mini Golf and Restaurant at 1397 Wanneroo Rd in Wanneroo as it is the most northern point with any infrastructure along Wanneroo Rd (which heads out to Indian Ocean Dr to Jurien, Dongara and so on.)
Drover's Marketplace is located on a major intersection which services about 62,000 cars on an average day. To put this figure into perspective, it is about three times more than the traffic along the Australind Bypass along Forest Hwy in Eaton where the only other existing Supercharger in Western Australia is located and about fifteen times as much as the traffic along Albany Hwy in Williams where the next supercharger is to be commissioned.
The Marketplace is home to a major northern suburbs tourist attraction which is the 5-acre Leap Frog's Botanic Gardens with integrated mini-golf, wedding venue and restaurant. Drover's Marketplace is also home to a cafe, steakhouse, pizza restaurant, Italian restaurant, bakery, hairdresser/barber, liquor store, large fruit and vegetable and mini mart store, butcher, 24/7 gym, laundromat, 7-day chemist, medical centre (including physiotherapy, dentist, nutritionist, pathology, sleep clinic and podiatry). There is also a creche, kids indoor swimming pool, storage, vet, pet store and so on. Importantly, the above list only includes the existing tenants as the other half of the site is currently being developed which provides a good opportunity for the installation of appropriate electrical infrastructure. This southern part of the development already includes a petrol station and across the road is also a McDonald's. Carramar Village Shopping Centre is within walking distance and includes a major supermarket, community centre, several fast food outlets, newsagency, cafe, 24/7 gym, hairdresser/barber, chemist, medical centre, school and so on.
It is entirely possible that Tesla has already picked the location and thus the above could serve as a suggestion for the next supercharger location or maybe there is still time for Tesla to take the above into consideration. Either way, with the State Government due to begin installation of the fast DC charger network across WA next year, it is going to be an exciting time for WA Tesla and EV owners.