Having recently come back from a 1,000km round trip, towing a trailer behind our Tesla Model 3, I've learned two things. Firstly, we need a denser network of reliable fast DC chargers in country Australia and secondly but equally importantly, we also need to rethink the design of electric vehicle (EV) charger configurations to allow EVs towing trailers to also be able to plug-in. We can refuel internal combustion engine (ICE) cars while towing a trailer, boat, caravan, or horse float, so why not an EV?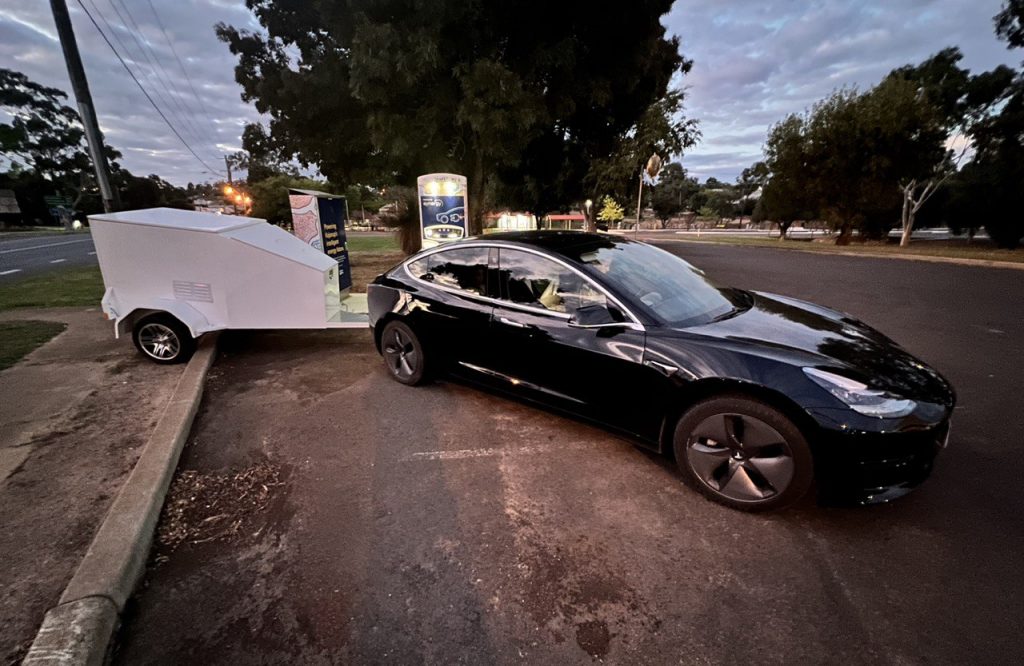 If EV demand figures are anything to go by, consumers love EVs, both around the world as well as in Australia and we also love towing our trailers, caravans, boats and even horse floats but how are we going to go combining the two? How are we going to go using our EVs for towing?
With EVs accounting for only about 8.3% of global new light car sales in 2021, there aren't yet many two-EV households, therefore for the time being at least, when a two-car family buys an EV, it is mainly bought as a second city car, with an ICE four-wheel drive SUV or ute/truck usually the designated towing vehicle. As a result, most manufacturers have targeted their EV sales at this second car market but with EVs growing at a rapid pace, (the 8.3% global figure was a 108% increase on 2020 numbers), contrary to many projections, it may only be 3-4 years before one in every two cars sold around the world is an EV. Furthermore, with 89% of Tesla owners saying they'll replace their car with another Tesla, many more two-EV households, such as ours, may not be that far away, which means at least one of the EVs may need to be a capable towing vehicle. To put it another way, as Tesla points out, "consumers do not buy cars that can meet most of their driving needs; they buy a car that meets all their driving needs."
This fact is not lost on car makers several of whom have introduced impressive off-road and towing vehicles including the Rivian R1T, GMC Hummer EV, Ford F-150 Lightning, Tesla Cybertruck, Chevrolet Silverado, Toyota Hilux EV, Ram 1500, Lordstown Endurance, Bollinger B2, Fisker Ocean SUV, LDV Maxus New EV, Canoo EV Pickup and others.
Whether we'll see any of these models in Australia anytime soon remains to be seen, however, in the absence of a national EV policy and with Australia having become a dumping ground for dirty and inefficient EVs due to a lack of vehicle and fuel emission standards, it is no surprise that car manufacturers have been slow in introducing their EV models to our shores. We're therefore limited to only a fraction of the models available in other markets. As an example, Europe has around 120 plug-in hybrid (PHEV) and over 90 pure EV (PEV or BEV) models on the market. In contrast, with less than 30 models available in our market of which only about a dozen are fully electric, prospective Aussie EV owners are confined to about a quarter of the PHEV selection and less than a sixth of the PEV options. That said, however, with deliveries having already began in some right-hand drive markets, the arrival of the Tesla Model Y in Australia seems imminent. The Model Y should be able to tow up to 1,588kg on the 19" or 21" wheels and when the Cybetruck becomes available here, it may well become the ultimate towing vehicle with an unrivalled 6-tonne towing capability. In the meantime, the Model X is also capable of towing up to 2,300kg.
With so many towing capable EVs inevitably hitting the market, we need to ensure these cars can conveniently charge when towing. At the moment, the majority of EV chargers are mounted against a curb requiring most EVs to reverse up against the curb or some to drive-in forward. Neither method works if towing a trailer. There were technical and economic reasons why some sites were initially configured this way, but one can't help think that many other sites were designed in this manner for no other reason other than because this is the way things have been done in the past. Five examples are pictured below.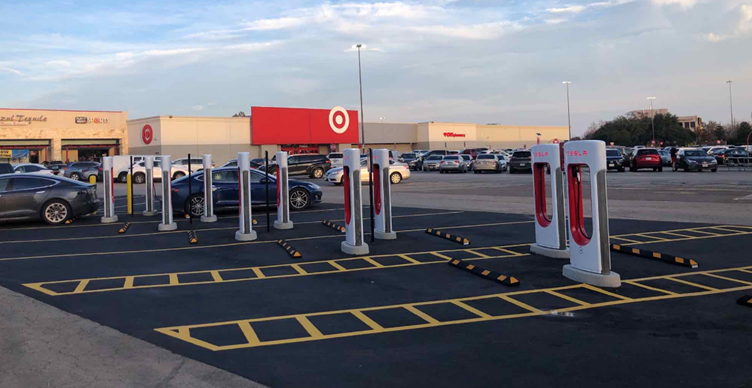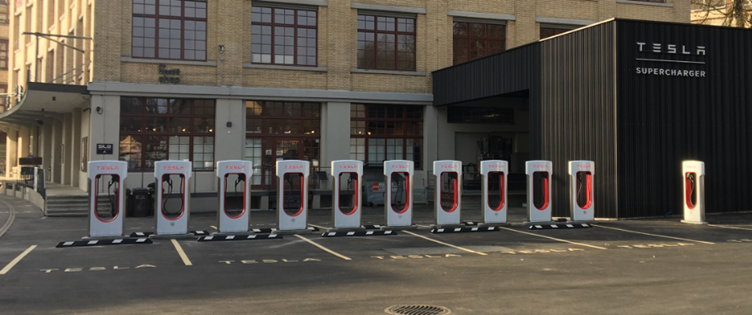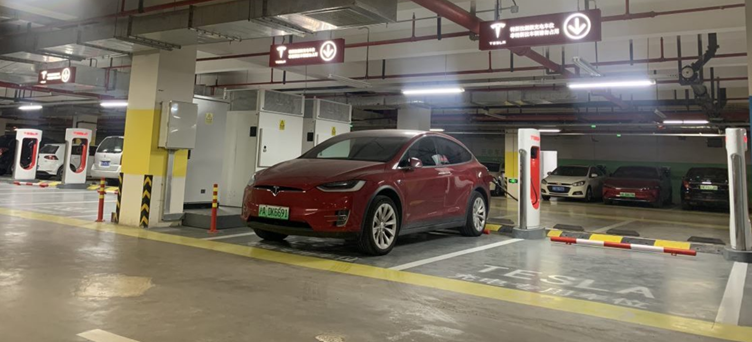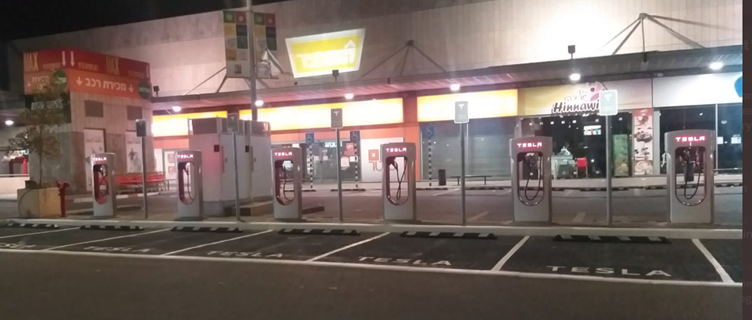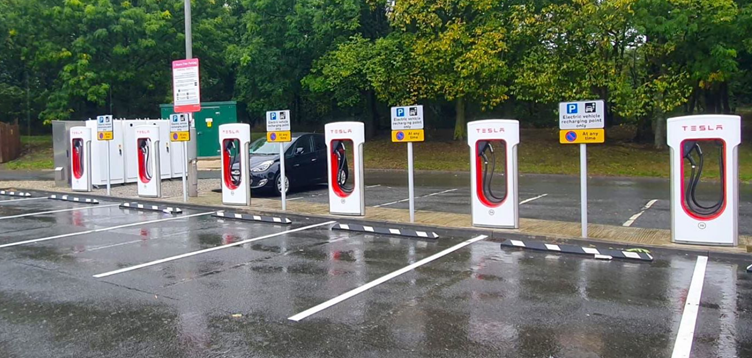 I can't see the above configurations being any more cost effective than what I call a "drive-through" layout. A drive-through configuration as found in most petrol and gas stations doesn't require the cars to reverse or forward park against a curb or wall but instead allows them to enter at one end and exit at the other while also allowing for EVs towing a trailer to plug-in.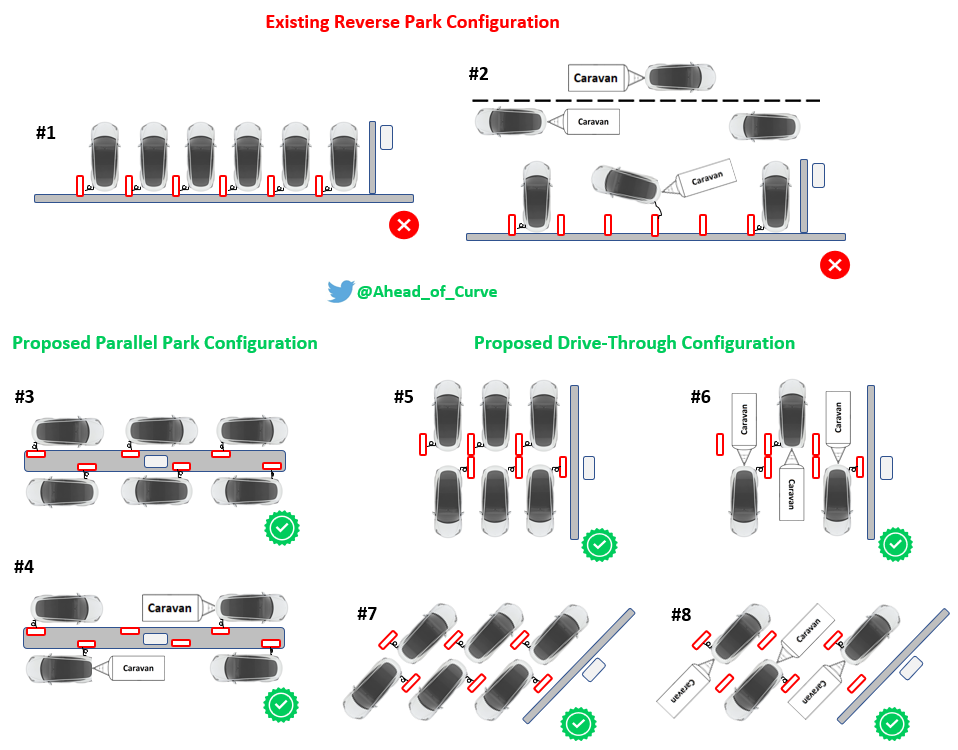 As can be seen from the graphic above, in contrast to how the stalls are mostly configured now, there are numerous advantages to a 'drive-through' configuration. Apart from a more efficient design, a drive-through configuration makes for easier parking when towing while also giving non-towing cars a choice to either reverse-park as is the case now or forward park, particularly when two or more bays are free. If there is at least one towing vehicle being charged, the drive-through layout allows for more towing EVs as well as non-towing EVs to be charged simultaneously. As figure #2 shows, and as can be seen from the photos below, a car with even a small trailer needs to block-off four other charging bays in order to awkwardly manoeuvre into a position where an almost fully extended charging cable can reach the towing vehicle.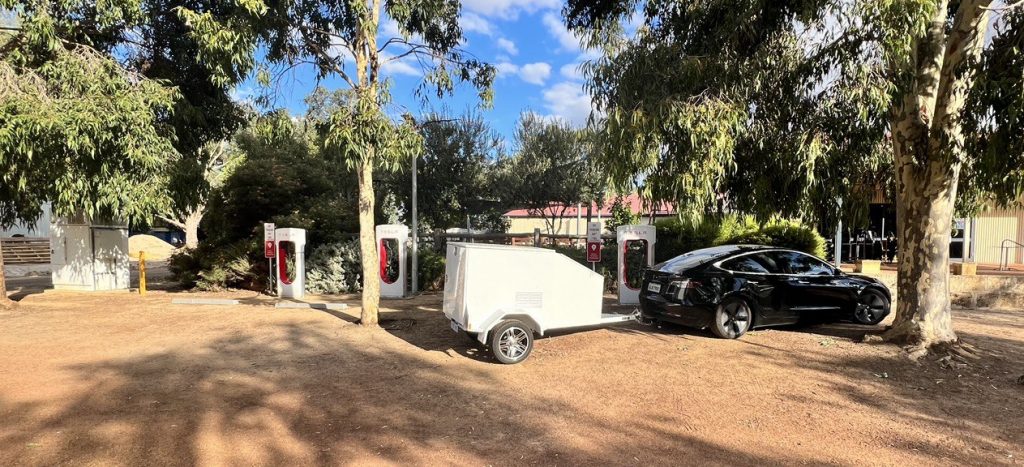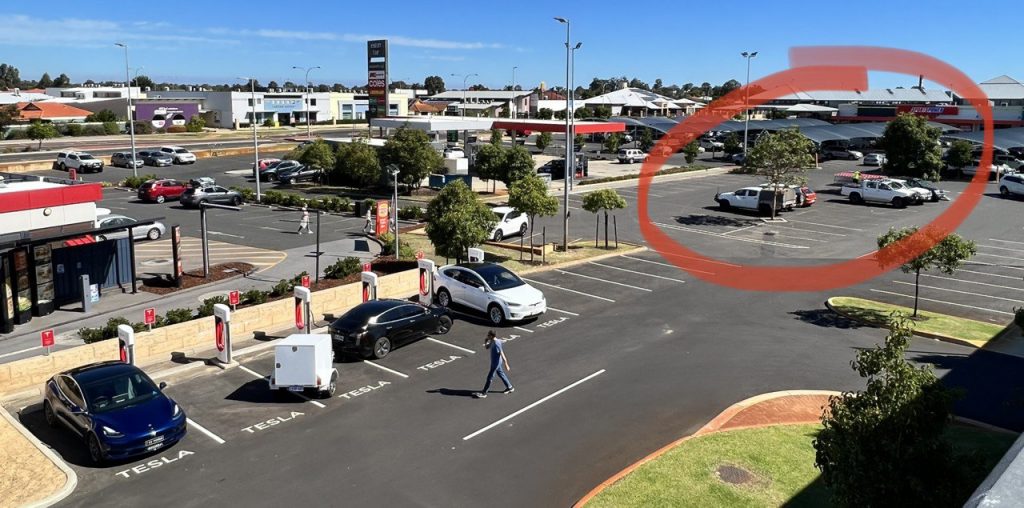 As the photo above shows, had the Superchargers been installed at the location indicated by the red marking, the stalls could have been configured in a 'drive-through' formation. As the graphic illustrates, and as summarised in the table below, a drive-through configuration can accommodate the same number of non-towing EVs as the usual reverse park configuration shown in figures #1 and #2, however, while a reverse park configuration can only accommodate a maximum of one towing vehicle and two non-towing cars, a drive-through layout such as the one in figure #7, can accommodate up to four non-towing vehicles in addition to one towing vehicle.

While not as efficient as the drive-through design, a parallel park layout can still work for towing EVs. We were lucky to find one such charger in Nannup, Western Australia where we had a very convenient seamless charging experience.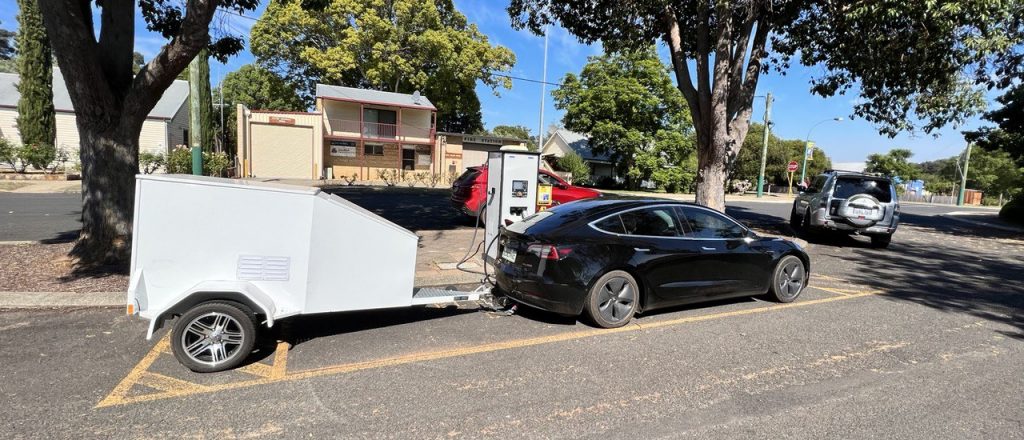 The reverse park, parallel park and the drive-through configurations constitute the three main layouts, however, these can be combined into numerous variations to suit a specific site, such as illustrated below.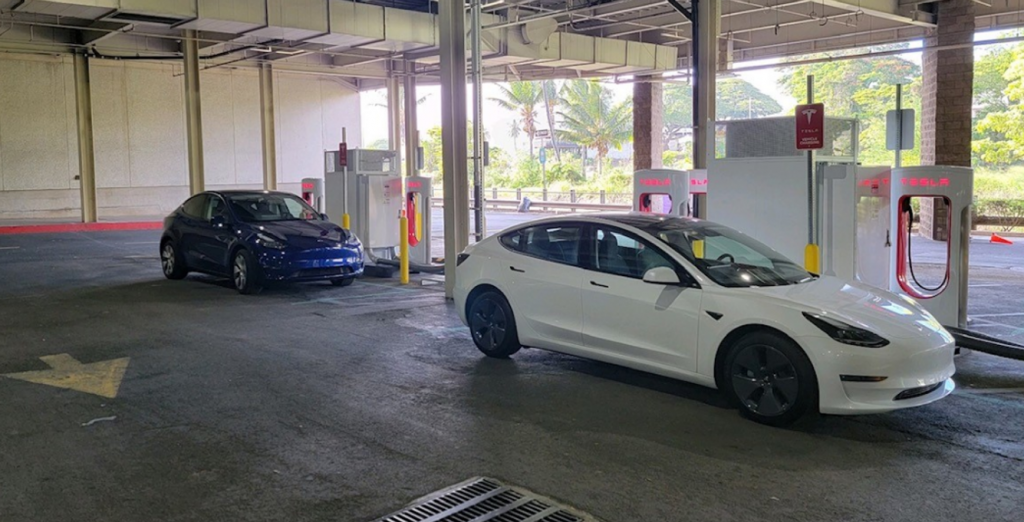 Naturally, one solution open to towing EVs is to unhitch the trailer, boat, caravan or horse float in a nearby parking space and to then drive the EV to the charger and plug-in as per normal. An ICE car towing a trailer doesn't have to unhitch just to fill up with petrol or gas and an EV driver shouldn't have to do so either, as there can be many disadvantages to this approach including the following:
It can be prohibitively inconvenient to unhitch a trailer,
it can be unnecessarily time-consuming to unhitch a trailer,
EVs that are towing will consume more energy resulting in a shorter range which means they'll need to charge more often. This in itself can potentially be seen as a small inconvenience, so it doesn't need to be further exacerbated with unnecessarily unhitching and hooking on the trailer at each charging station,
when a trailer is unhitched from a car and parked elsewhere it needs to be secured to prevent another car simply pulling up, attaching it to its tow bar and stealing the trailer, caravan, boat, or horse float,
it's not uncommon for particularly older trailers to have no brakes requiring the wheels to be manually chocked on anything other than the most level surface which exacerbates the inconvenience of unnecessarily hitching up and unhitching a trailer,
the jockey wheel near the point of the A-frame of many trailers doesn't reach low enough to attach to the towbar of some cars such as the Model 3 without an adapter, requiring a minimum of two people to hook-on or unhitch a trailer,
it's not uncommon for some trailers to have finicky electrical connections requiring extensive jiggling of the connection in order to get it to work properly, requiring at least two or three people to establish a stable working connection.
As outlined above, unhitching a trailer, boat, caravan or horse float just to charge, is unnecessarily time consuming and there are numerous impracticalities and inconveniences to this approach and as mentioned earlier, an ICE car towing a trailer doesn't need to unhitch just to fill-up, therefore, neither should an EV.
A drive-through configuration such as that found in most petrol / gas stations is the logical solution having the following benefits:
It is designed to cater to electric vehicles towing a trailer, caravan, boat, horse float or anything else,
it is a more efficient design allowing more EVs to be charged simultaneously,
it is a more convenient design allowing particularly towing EVs but also non-towing EVs to get in and out of the charging bays faster and easier,
it doesn't require unnecessarily fully extending the DC cable to reach the towing vehicle,
notwithstanding the fact that the Tesla Semi or other electric semitrailers will have their own dedicated charging networks and assuming they will have a plug that is backward compatible with CCS2 and perhaps also a Type2 (Mennekes) connection for trickle charging, a drive-through layout may be the only way these trucks will be able to charge at regular charging stations.
As noted earlier, due to economic constraints in augmenting the existing network infrastructure, and as not all sites are the same, naturally, every site won't lend itself to a drive-through layout, however, in situations where it is possible to achieve a more logical, more efficient, user-friendly design at little or no additional cost, a better thought-out configuration such as the angled drive-through design should be considered.
Below are some examples of tow-friendly Tesla Supercharger configurations: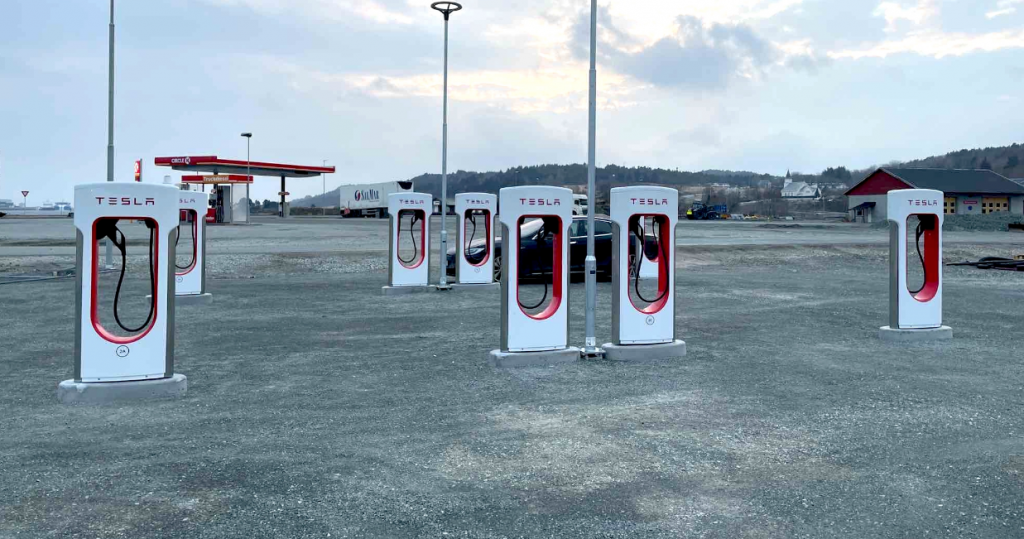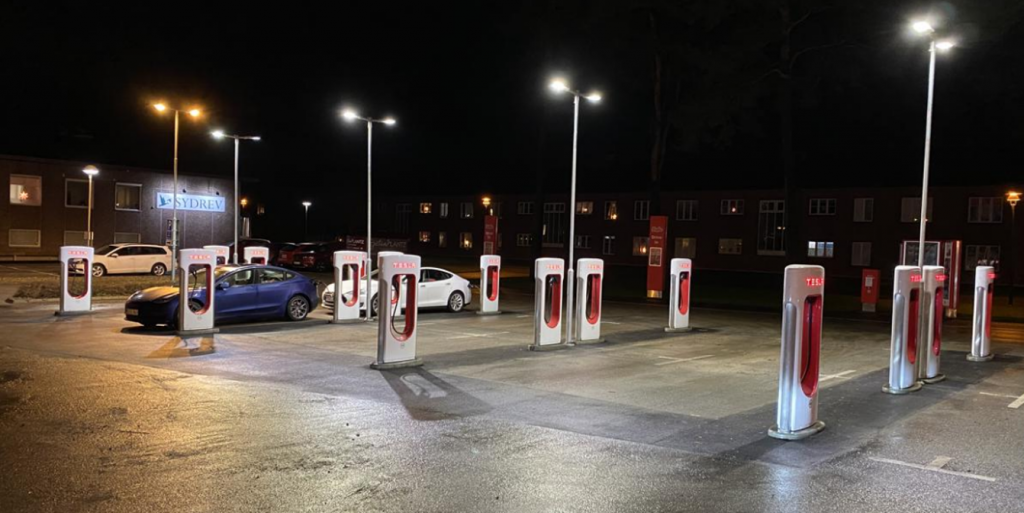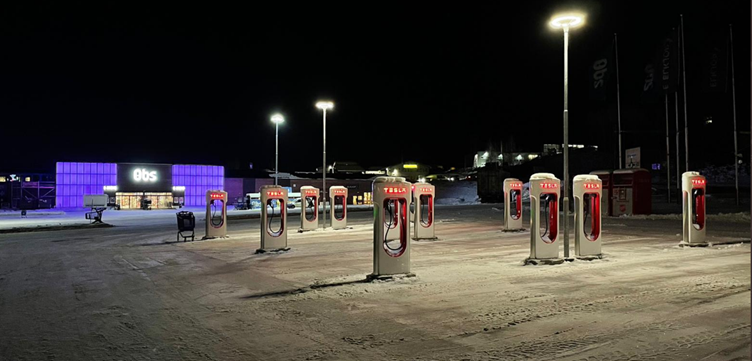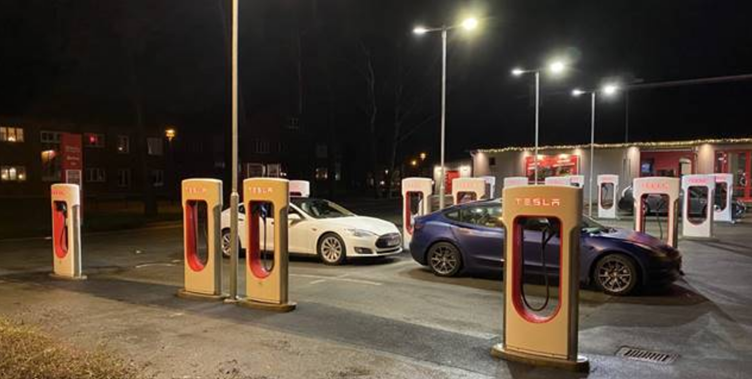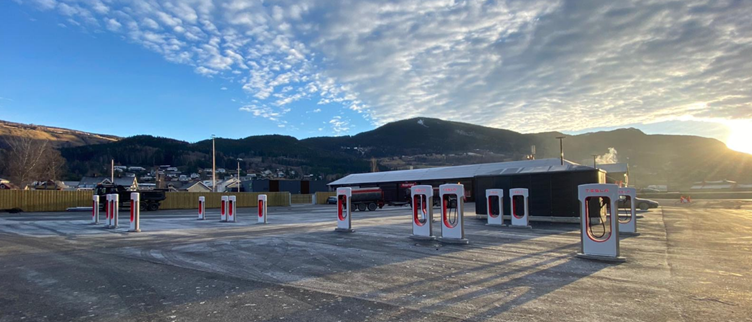 Most petrol and gas stations have a convenient drive-through design so why should EV owners have to reverse-park against a curb to plug-into an EV charger? From the perspective of an EV owner towing a trailer, the current reverse-park layout is a major oversight requiring immediate rectification.
This concludes part one of a two-part article. Part two can be found here: https://www.tocwa.org.au/2022/04/20/major-parts-of-australia-in-desperate-need-of-reliable-fast-dc-chargers/
[This article was edited on 22nd of April 2022, to add the second (right) image of the Morongo Trail Cabazon Supercharger in California which better shows the dedicated charging stalls for towing EVs. Thank you to Steve @rexjamo for supplying this photo.]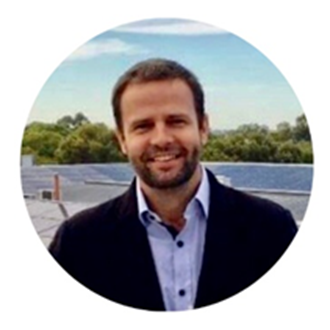 Pete Petrovsky is an active TOCWA (Tesla Owners Club of Western Australia) committee member and a long-time EV enthusiast. He placed a $6,000 deposit for a Model X (#39) in 2014 but when it came to taking delivery he couldn't justify the cost, so instead, he and his wife decided to buy two PHEVs and wait for the Model 3. In March of 2016 they bought the Holden Volt and a couple of weeks later the Mitsubishi Outlander PHEV, and on the day it was unveiled, Pete ordered the Model 3. After selling the Outlander, in September 2019, Pete received his long awaited first Tesla, a Model 3 Performance. Despite still loving their Volt, Pete and his wife took delivery of their second Model 3 in December 2021. In his spare time, Pete also runs the 'Tesla Ahead of the Curve' YouTube channel and is also a long-term Tesla shareholder.