The return trip is just over 2500km. Finding AC charging points is no problem, there's a bit of downtime whilst charging but if you haven't driven North of Perth before it gives you a bit of extra time for sightseeing, if you've driven this road many times before and have seen it all the downtime can be spent writing down all the reasons why DC fast charging would be very handy in these parts.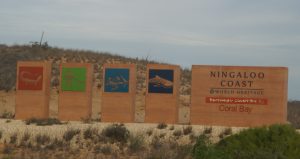 Good range is very difficult to achieve all the way to Northampton, the wind blows consistently and a tail wind never seems to blow when you need one, the second major affect on range is the coarse road surface, with charging points no more than 220km apart getting to your next destination shouldn't be a problem but just in case be prepared to drop the speed back to 90km/h if it doesn't hold up traffic.
The roads are well built all the way to the Exmouth turnoff, after that it's a two way marked road but the edges don't have much room for error. Be cautious of impatient drivers especially on the Perth to Geraldton leg, expect to see at least one act of stupidity from a random driver, fortunately more overtaking lanes are being built and the sooner the better, also look out for foreign tourists that forget which side of the road to drive on, generally first thing in the morning.
Charging options:
It is a good idea to study Plugshare before each destination, there are some handy tips (especially when using the Jurien foreshore charge point).  Please update Plugshare for fellow tourists – if someone has logged in recently it gives them the confidence to make the journey.
The Alkimos type 2 to type 2 charger is a handy top up point if conditions are favourable enough to attempt the 380km journey to Geraldton in one drive, a better option is to stop at Jurien Bay for 30 minutes and add 120km of range to the battery on the Caltex DC charger.  Cervantes has a Tesla HPWC as a backup charging option.
Geraldton has two locations with Tesla charging options, Oceanwest Geraldton were the first to install charge points when no one else in town had any interest in supporting the cause, Oceanwest have accommodation and nice walks along the beach if it's not too windy.  More options now available, check plugshare.
Almost halfway to Carnarvon is the Billabong Homestead it's on the highway next door to the roadhouse but under different ownership. 

Billabong has a Tesla charger, updated accommodation that may not be the Hilton but is clean and air conditioned, the Red car cafe has hot meals, hot drinks and a licensed bar.

Wooramel is 120km South of Carnarvon, they do have a 3 phase outlet but it requires a large gate to be unlocked to gain access, plans are in place to install a more convenient Tesla connector, accommodation is very basic here but also clean and good value.
Carnarvon has two locations with Tesla charge points, both are central to town with secure parking, Seaview has circa 2012 built apartments that would suit couples who travel light, an easy walk to get food and drinks. The Carnarvon motel is a large property with a variety of room sizes and facilities, great spot for the kids with a swimming pool, games arcade and large dining area.
When in Carnarvon the NASA Museum is a great value and worth the stop for an hour or two.
Coral Bay has a 3 phase power outlet at the RAC resort, at the time of writing it was due for repair so ring ahead, if you are planning to stay overnight in Coral Bay 15A single phase would suffice. Edit: Coral Bay 20amp 3 phase was working as of June 2021.
The RAC tourist resort in Exmouth has near new 32A 3-phase outside the check in office, it sometimes gets blocked by the Coffee van in the morning but that's not a bad problem to have at 7.00am. As most people would stay in Exmouth for at least one night 15A single phase would cover most needs.
Payment for charging:  Generally charging during overnight stays is complimentary (but not always so check plugshare) daytime charging is hit and miss, some locations have a set fee, some still haven't worked out a charging fee and others are happy as long as you eat, drink and be merry. If you're unsure the best option is always to offer to pay some cash, another good practice is to carry a bottle of wine or two as a good will gesture, every location is different.
*Keep in mind that in these early days every EV driver is an ambassador for the cause, so don't forget to thank the owner/manager/staff for providing car charging.
Tyres:  Dongara, Geraldton, Carnarvon and Exmouth all have tyre shops, unfortunately most roadhouses no longer have facilities to help out. I highly recommend you carry a spare wheel and tyre combination, a good tip is to check the tyre tread for screws/nails while the car is charging, there's a good chance a foreign object will lodge in the tyre while driving through a carpark slowly rather than on the open road.
In a few years time the Perth to Exmouth route will no doubt have DC fast chargers all the way, the journey will be routine and in many ways mundane, your Tesla will be just like every other car out there, so while it's just AC charging be slightly adventurous and give it a go.
Updated June 2021.