A number of owners asked questions yesterday about carrying a spare tyre, before I go in to detail the Tesla owners club of WA have a free to use model 3 spare for members plus McCarthy's in Nedlands carry at least one spare for model S cars, if you have a model X get in contact and TOCWA as we also have a owner's spare that's available.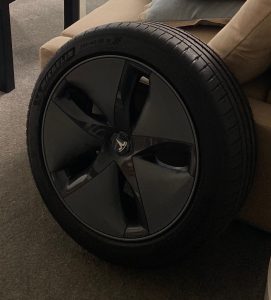 So do you need to carry a spare tyre?
• For around the city and suburbs the answer is NO, in fact I would recommend getting your car flat bed trucked to a tyre centre rather than risk injury changing a tyre in a city full of distracted drivers.
• If you're driving on the busy coastal corridor that passes through Mandurah-Bunbury-Dunsborough-Augusta there's enough support to go without a spare tyre so the choice is yours.
•If you're planning a drive North of Jurien Bay, East of Cunderdin or South-East towards Esperance I highly suggest you carry a full size spare tyre and jack, the chances of you getting damage to a near new set of quality tyres is low but if you do get a tyre failure the consequences can be very expensive and extremely frustrating.
Carrying a tyre repair kit is NOT sufficient, these are only useful for plugging small holes caused by tech screws, most tyre damage in regional areas is caused by a very rare but unavoidable pothole or a foreign object that's fallen off another vehicle.
What about a space saver spare? For country roads these are crap, I can't see the point of driving at slow speed for up to 300kms to the next town only to spend the next 3 days hanging around waiting for a replacement tyre to be transported in, best to carry a full size spare with plenty of remaining tread that will allow you to enjoy a stress free journey.