The recently released EV sales figures by the EV Council of Australia provides a stark reminder of how poor the generic (non-Tesla) charging infrastructure is in this country.
The EVCs figures show that 3.39% of all light vehicles sales for Q1,2,3 2022 were electric, this includes Plug-in Hybrid Vehicles (PHEV). When those figures are broken down it also shows that two vehicles dominated EV sales, the Tesla Model 3 and Tesla Model Y, these two variants alone made up 53.2% of EV market share, the other 46.8% was from a combination of 93 variants. If you remove the 35 PHEV variants from the figures Tesla has a 64% share, it also shows that despite the Electric Vehicle Council highlighting a figure of 3.39% the reality is removing Tesla and PHEVs from the sales figures reduces this to 1.007%, in effect the 58 variants of pure EV that do not have a Tesla badge make up just 1% of the light vehicle market. This large difference in sales between Tesla and the remainder is made even more interesting when you consider Tesla do not spend money on advertising.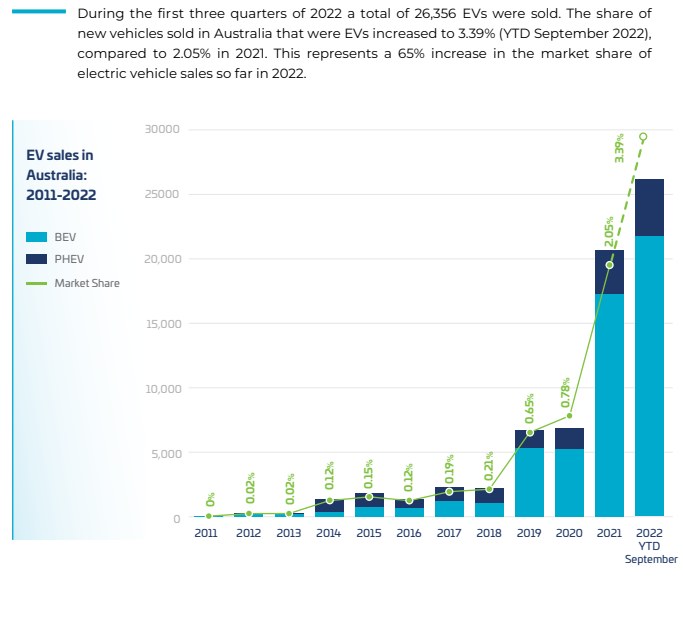 Despite claims of purchase price and lack of choice deterring Australians from buying an Electric Vehicle I have no doubt the biggest barrier is a fear of being unable to charge away from home, petrol and diesel vehicles have been extremely convenient in regional areas for decades and the buying public expect no compromises. For a Tesla owner who lives close to or between one of the 5 east coast mainland capital cities charging is reliable and convenient due to the Tesla Supercharger network, in the south west of the country Tesla owners have a similar convenience. Each location has a minimum 3 and sometimes 8 charging cables, the reliability rate is extremely good. On the other hand, non-Tesla EVs (legacy auto) must rely on a mix of different branded chargers with a variety of payment systems. These DC chargers are few and far between with only 1 or 2 units at each location and many being broken or out of operation for weeks at a time, the situation is shambolic and the EV buying public are becoming very aware of the problems. Tesla currently have only two variants of EV for sale in Australia with an average purchase cost of $80,000, price and lack of choice has very little bearing on a sale, a convenient and reliable charging infrastructure does.
Unfortunately, the Federal governments promised "DC chargers every 150kms" is just a talking point that will continue through to the next election. Every month of delay is crushing legacy auto while at the same time helping cement Tesla as the dominant sales leader for many years.
You cannot charge Electric Vehicles from media releases.