I'm hoping the instances I've seen in the past week with regards to uneven tyre wear on 2023 WA based Model Ys is just pure coincidence rather than being widespread across the Australian fleet, in saying that it's best to be prepared by spotting any uneven wear early and booking the vehicle in for a check and alignment.
How can you spot an issue early?
If you look at the tyre surface from the front or the rear it can be very deceptive, tyre wear may look very even across the tread and wear on the outer edge is fairly easy to spot. On the other hand wear on the far inside edge is almost hidden until it's too late, that's why getting a tyre rotation or inspection done 10,000kms after delivery is well worth the effort. Taking the wheel/tyre off and rolling it slowly while carefully checking the surface will show up any early signs of uneven wear.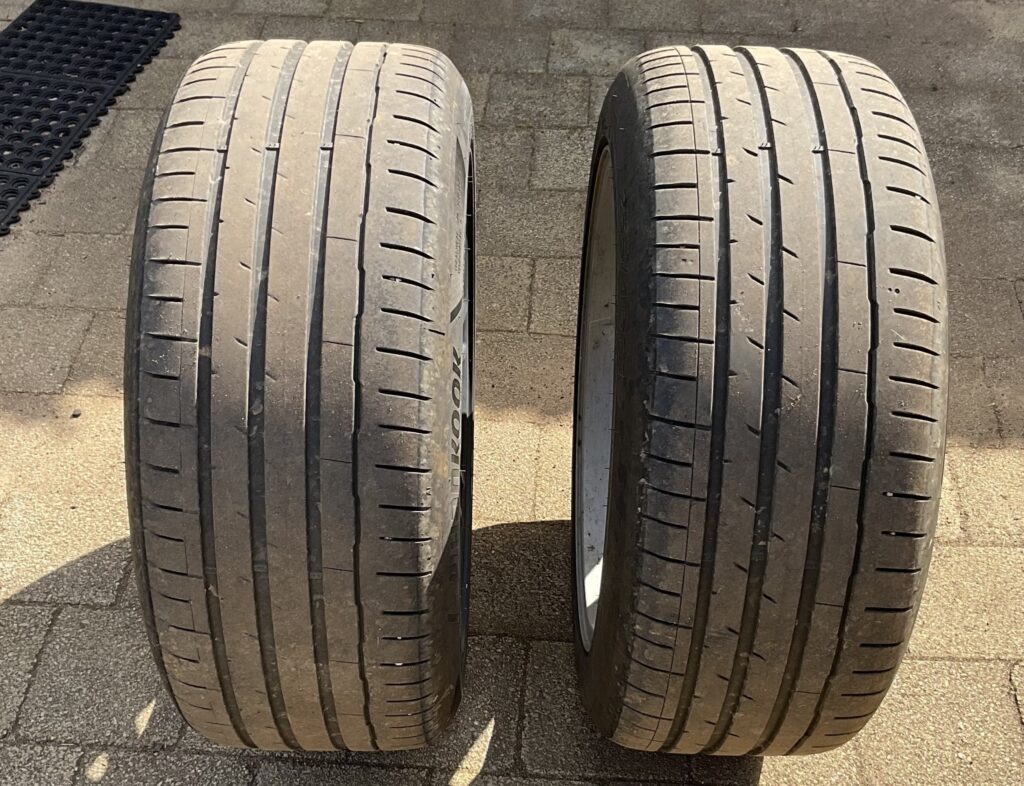 Why bother?
If a looming safety issue doesn't sway you to be vigilant maybe some basic arithmetic  will, a 19inch tyre on a Model Y that has even tyre wear throughout its life should survive for at least 50,000kms, if you don't correct uneven wear early the tyre is likely unroadworthy at 30,000kms, that's approximately $800 worth of tyre tread wasted. For those vigilantly counting every cheap kWh of electricity you charge your Tesla with you may be wasting more on tyres per km than you're spending on electricity per km.  If you have a Model Y with higher priced Pirellis it's closer to $1100 wasted.
Fitting new tyres
Hopefully you get even tread wear and a high km lifespan out of original set of tyres but eventually they'll need replacing. Unless you can find a compelling reason to change brands I'd recommend sticking with a similar Hankook 19, Michelin 20 or Pirelli 21 that Tesla factory fitted, often keeping it simple is the best method.
Without doubt most Model Ys in WA will be fitted with 19inch Hankook Ventus EvoS1 (255/45/19) I recently got a quote for these at $499 each, that's reasonable but I highly suggest you make enough phone calls to get not only a competitive price but a tyre shop that will respect both you and your car.
Hankook have also recently introduced a similar tyre specifically for Electric Vehicles called the Ion AS, in the 255/45/19 size I received a quote for $539 each.
I'm sure you're asking this question; "Is an EV specific tyre marketing BS?" The answer will be revealed soon as one of our members is currently putting the Hankook Ion tyres through a thorough long distance test across the top end of Australia.
In summary:
Keep a constant check on your tyres, it only takes two minutes while the car is on charge.
Correct the reason for uneven wear ASAP.
Phone around for competitive tyre prices in the weeks before you need new tyres not on the day you find your car unroadworthy.