Back in 2019 we drove a Model S around Tasmania for 9 days as part of a complete around Australia trip, at that time DC charging was almost non-existent, maybe 2 locations in the whole state, not that we used one as distances are short and there was enough AC charging outlets to get us by with a little bit of forward planning.
Fast forward to our most recent 17 day trip early this October. The Apple Isle has the excellent Electric Highway of Tasmania DC Network wisely spaced across the state, no cherry-picking locations in capital cities rather DC chargers placed that will assist the wider EV community. It should be no surprise that the Electric Highway of Tasmania is influenced by long term AEVA Tasmania members, it is a DC charger network for the people by the people. There is no longer planning needed to keep an EV charged, freeing up time to enjoy the twisty, hilly roads that fit well with the huge torque and regenerative braking of an Electric Vehicle.
You don't need a Tesla to do this trip, a BYD, MG or Polestar will find the charging just as easy and roads a joy to drive.
Getting to Tasmania
This all depends on the EV you currently own and where you live, for some it is worth investigating flying directly to Hobart and hiring an EV. Much of the extra money you spend on airfares and car hire will be offset by the saving in food, accommodation and time on the mainland journey to and from the Geelong boat departure point. If you do not have a lot of spare holidays I recommend flying and hiring, if you have the spare time and are adventurous drive your own EV via the Spirit of Tasmania Ferry.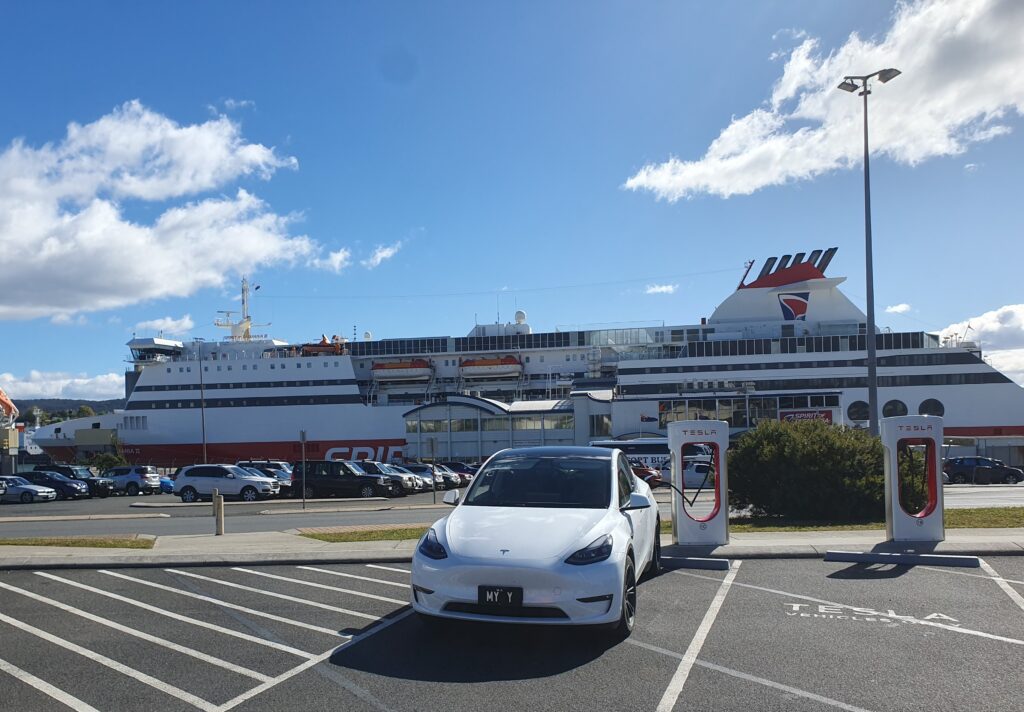 Spirit of Tasmania, Devonport
Going via the Ferry
The Spirit of Tasmania Ferry service with 2 adults and a car varies between good value and great value depending on the time of year. I recommend booking a day trip one way and night trip the other, if you do, I'd also recommend paying extra for your own cabin during the night trip. Make sure you book the return journey before leaving home if not you will end up on the growing list of mainlanders stuck in Tasmania for weeks longer than they expected.
The Spirit of Tasmania website is easy to negotiate for those that want to experiment with the availability and costs of return journeys at different times of the year. If you're not too sure about a 10 hour trip across the often unsettled Bass Straight it's worth it all when you drive your own EV off the boat and into a great adventure.
The Best Time to Visit is when Others are not
Most Australians visit Tasmania during the Summer, resulting in higher prices on the Ferry crossing, far busier roads, less accommodation, crowded walking trails, higher vehicle rental costs and generally a feeling that you are on the mainland rather than remote, tranquil Tasmania. I would recommend October or March/April/May, the weather is cool but not unbearable and most organised tourist events are still open.
Accommodation
We mixed it up with a combination of using a King Swag at tourist parks or booking a cabin or cottage. In October these were easy to book at short notice and were good value for money compared to mainland Australia. Just note that I said King Swag and not tent, some parts of Tasmania can be very cold and windy at all times of the year, a canvas swag will handle this, most tents won't.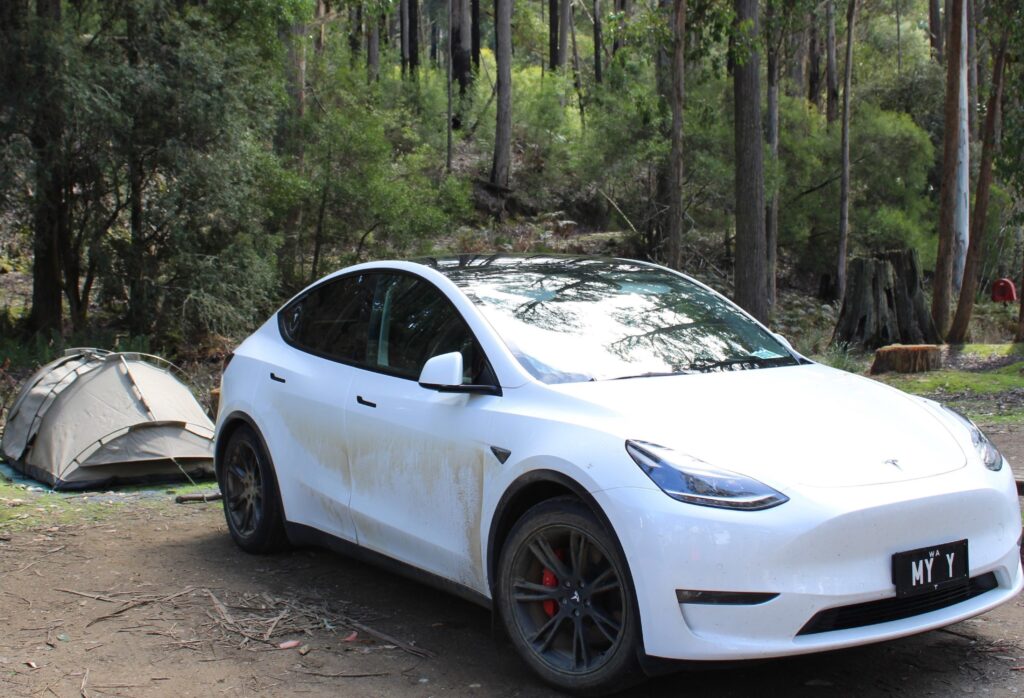 Mount Field National Park
Getting Meals
If you like your food and are not to fussed, I won't spoil the adventure for you, folks who do their research won't be disappointed. For the lazy grazers almost every regional town has an old pub with meals and an IGA store, the bigger locations such as Devonport, Burnie and Sorell have Coles and Woolworths. You will not go hungry or broke in Tasmania if you plan ahead.
The Roads
You will not be bored driving between locations, in fact you'd better be wide awake; major roads signposted 100kmh with 15kmh hairpin bends, steep climbs followed by steep descents, with large trees on one side and a rock face on the other. These are not rat runs like on the mainland, these are often the only road access between towns.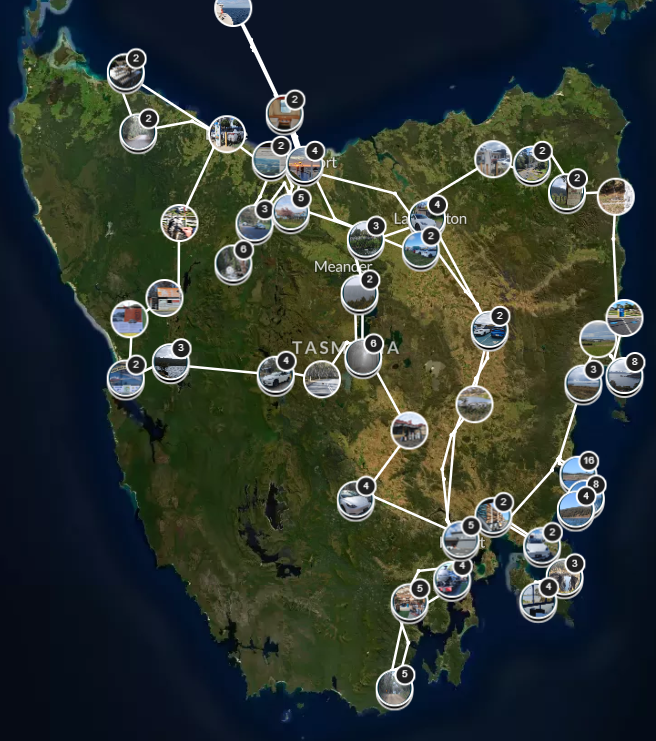 Must Do Locations
Leven Canyon
Queenstown Wilderness train
Wadamanna power station museum
Mount Field National Park
Lake Dobson (carefully and with the correct tyres)
Maria Island boat tour with Maria Island Cruises (Oct- May)
St Columba Falls
Locations Well Worth the Visit
Sheffield
Cradle Mountain
Lake Barrington
Dip Falls
Stanley
Zeehan
Strahan
Queenstown
Lake St Clair
The Wall
Miena
Oaklands town and Callington Mill
Salamanca Markets, Hobart
Cockle Creek
Richmond
Port Arthur
Triabunna
St Helen's
I apologise in advance to any Tasmanians for any interesting locations I may have missed, I'm sure you'll give them a plug in the comments.
And speaking of plugs, the AEVA National AGM and EV Expo is being held in Hobart on the first weekend of November 2024, start planning now for an Apple Isle adventure.