Introduction
Several electric vehicle drivers in Australia have made the long journeys away from the isolated City of Perth travelling to Darwin, Adelaide and even all the way around Australia. A few keen enthusiasts in the EV community have done an excellent job arranging 3-phase power points to be installed along these routes. While these have been much appreciated by those that have followed, many places are not well connected to the grid and the power supply is inadequate or more to the point not as reliable as required – phases are often not balanced and access is sometimes restricted. The ChargePod was developed to service these locations, with a simple easily installed skid with 50kW DC charging capability. A keen AEVA member has built a prototype unit and a fuel consumption and endurance test was undertaken.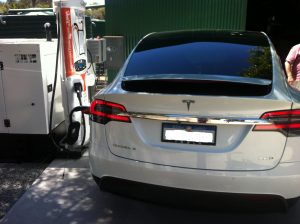 Objectives of the test
Check the reliability of the ChargePod over an extended multiple EV charging session
Evaluate the equivalent diesel fuel consumption for each model of car charged
Test Outline
The test consisted of 10 electric cars being charged consecutively at roughly 1 hour intervals utilizing a 50kW DC charger powered by a diesel generator (ChargePod). The cars were predominately Tesla Model S and Tesla Model X which arrived with around 35% battery with a view to charging to around 85% to ensure the optimum charging range. The ChargePod was not stopped between charges but allowed to idle for the few minutes while cars changed representing what would happen in a real situation. The charge sessions were all started and stopped using the ChargeFox App.
Equipment used
10 full electric vehicles consisting of 6 Tesla Model S, 3 Tesla Model X and a 2018 BMW i3
A Tritium Veefil 50kW DC charger with a Chademo and CCS2 connector
A near new (23h) 75kVA Cummins powered generator set.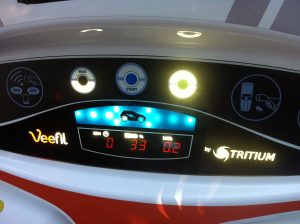 Test sequence
ChargePod fuel tank topped up to 38mm from filler neck.
Start charging car – record start and finish battery %, car's average kWh consumption rate, kWh added to car, session start and finish times.
Change subsequent cars and repeat recordings.
Complete all 10 cars then shut down.
Leave skid overnight to cool.
Use mobile fuel truck with calibrated meter to refuel ChargePod to 38mm from filler neck.
Record total fuel consumption for the test.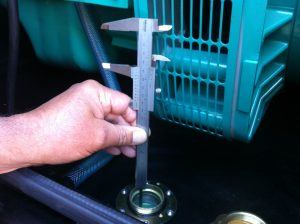 Calculation method
Using total kWh added to all cars divided by the total fuel consumed an average kilowatt hour per litre diesel consumed is established – this is 3.392 kWh per litre which is the ChargePod performance.
Using the lifetime average kWh per kilometre for each car (this depends on the car and the driving style and is recorded continually by the car) an individual litres diesel equivalent per kilometre for each car tested can be established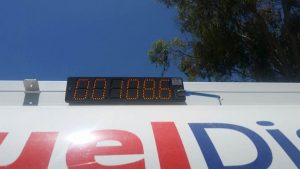 Results
The ChargePod ran continuously for 9 hours 15 minutes and charged 10 cars without stopping.
the generator consumed 108.6 litres of diesel.
the total energy recorded as received by the cars battery packs was 368.4 kWh.
the average kwhr per litre delivered to the cars by ChargePod was 3.392 kWh/l.
Diesel fuel consumption equivalents :
BMW I3 is 4.392 L/100km
Tesla Model S range 5.011 to 6.014 L/100km
Tesla Model X range 5.689 to 6.957 L/100km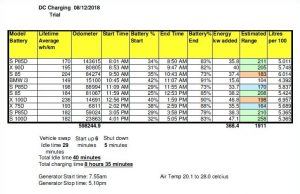 Conclusion :
A stand alone DC EV-charging skid powered by diesel generator for remote locations with inadequate power delivers fuel consumption results are very comparable but on most occasions better than equivalent diesel powered passenger vehicles.
Thanks to all the EV drivers who volunteered their cars  on the day and most importantly to Jon Edwards who provided the venue, equipment, knowledge and can-do attitude to build the Chargepod and complete the test.