It often gets asked on social media forums and at electric vehicle displays why off grid EV charging is not being built. The answer is: it will be eventually, it's not technology holding it up, nor lack of renewable energy available, it's frequency although not in terms of electricity but in terms of traffic flow.
Many EV drivers are already charging at home from off grid electricity systems, this is cost effective because of two important points; firstly they're sharing the power generation equipment with general household usage thus sharing the equipment cost; also they are only using around 20% of the vehicles battery per day, 50% at most, this means they can delay charging until excess electricity is available.
With home charging it really isn't that difficult to install a suitable off grid electricity system without too much overbuild, for a commercial site on a country road it's vastly different. The random nature of traffic flow makes sizing a suitable generation system without massively overbuilding very difficult. On an average day in 2022 a regional roadhouse may get 4 electric vehicles stop to charge, that is zero to one car some days and 10 cars on other days, add in long weekends and school holidays and the EV traffic flow could be far higher. It's not too difficult to install enough chargers for the busiest day but having enough electricity production and storage to charge those EVs would require a generation and storage system that would spend the best part of a week completely under utilized, it's near impossible to make a business case from that.
Here is a very rough example to show why: On the busiest day 16 EVs stop to charge over a 24 hour period, if each EV consumes an average of 45kWh including charging losses, to provide 720kWh would require a minimum of 180kw of solar panels with the smallest battery set up of approximately 600kWh, and there sits the first issue. Batteries are currently too expensive to be only partly used 5 or 6 days per week, solar is cheap but having such a large solar array that's producing vast amounts of unused power for most of the week is a waste of resources.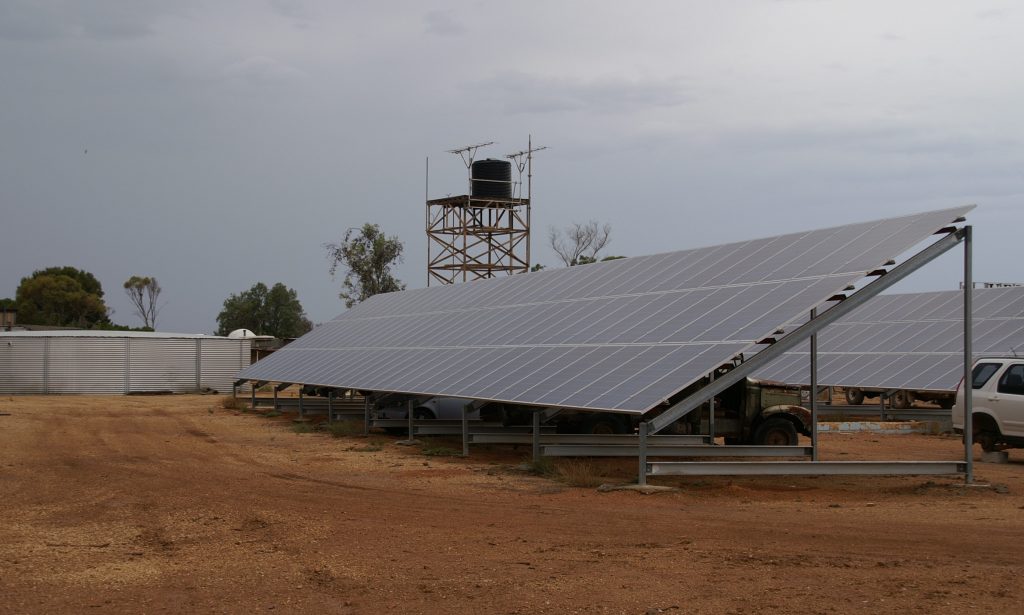 So this is what needs to happen over the next few years;
1. Battery prices need to fall significantly: this is not as big an ask as it seems as off grid batteries don't have to be Lithium based, off grid locations have no shortage of room, energy density is not important, the best battery is one that provides the best cost per kWh over its guaranteed lifetime in an often harsh environment.
2. One electricity generation system for everything: a shared off grid system is better value for money, but not only a shared system but a smart system where power consumption is carefully managed during busy time periods, water desalination and hot water systems can operate at times of low demand.
3. Charging cost: EV owners will openly say they have no problem paying 45 cents a kWh in country areas but make it 60 cents at peak times and 30 cents when excess power is available and charging habits will change, most Australian drivers are already accustomed to being fleeced by fuel companies on long weekends at least this way they have a chance at cheaper energy.
4. More electric vehicles need to be purchased in Australia: the bigger the flow of traffic in country areas the better the business case for building off grid charging facilities.
What is the short term solution?
A hybrid system of renewables and Diesel: as much as I dislike Diesel being used in passenger cars and pretend 4 wheel drives that never leave the suburbs it still has its place in country areas for another decade. Having a Diesel back up that covers the very busy days but only produces 10-15% of the overall electricity is a far better solution than the one Australia currently has. Most off grid roadhouses are powered close to 100% by fossil fuel (some have a few dozen solar panels) fueling up 99% of the vehicles that stop in with fossil fuels, a step in the right direction is better than no step at all.