Clearly the quicker (and possibly cheaper) option is to travel across Australia on a commercial jet, so if you're not sure you have the patience and planning skills take the airport option. For those more adventurous read on.
Before I continue I want to make something very clear: If you aim to get across the country as quickly as possible in your EV it can only be done with planning and patience. Trying to rush will not gain you any time but it's highly likely you will lose time by; unplugging too early, not reading the Plugshare comments, and lastly not respecting the opening and closing times clearly marked on the Plugshare description.
By early 2024 the WA state government will have enough fast DC chargers installed between Perth and Eucla to provide a fairly comfortable trip, once you get into South Australia its anyone's guess, SA do have a charging rollout planned but it's very Adelaide centric, so for the next 12 months or so most charging requires knowledge and patience.
To keep this a moderate length read I'll focus on the drive between Port Augusta and Norseman, a distance of 1,670km. There is already an article on TOCWA's website discussing the Perth to Kalgoorlie section.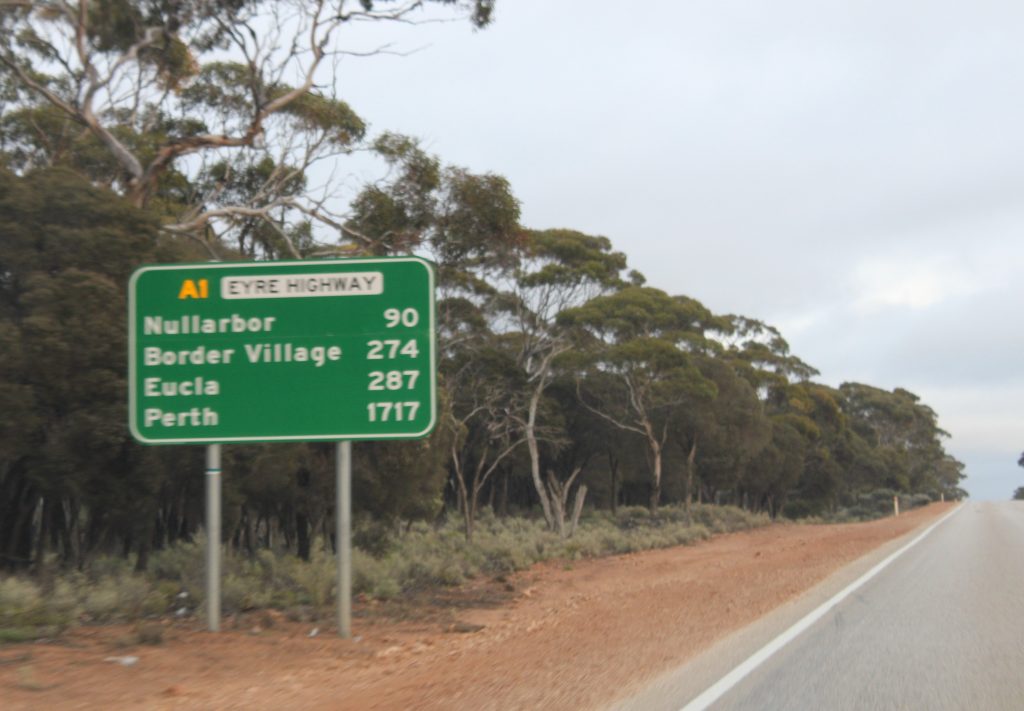 The road – It's generally good the whole way with a long sections of chip seal surface that increases energy consumption. There are no overtaking lanes but considering it's mostly flat and straight with good visibility overtaking is relatively easy. Despite the road being good I highly recommend you take a full size spare tyre and wheel combo, in the unlikely chance you get a tyre issue it will be a major one rather than a slow leak from a tech screw. Be aware Roadhouses don't replace tyres, they sell fuel, food and drink.
What to do/take:
Make sure your cold tyre pressures are correct, keep monitoring those pressures throughout the journey.
Study Plugshare thoroughly before you leave, especially the comments. While charging during the journey check Plugshare for your next stop just in case there's any late changes. Always check into Plugshare so other EV drivers on the Nullarbor can plan ahead. Edit: it has become very apparent that the number of EVs crossing the Nullarbor have increased significantly through November and December 2022, there is a chance you could arrive at a charge point that is already in use, it is in your best interest to plugshare your journey so other drivers can liaise with you. The simple 30 second task of checking into plugshare by yourself and other EV travelers could save you 3 or 4 hours of wasted time at the next charge stop.
Take the correct charging cable plus plan B and C cables. The correct cable is a 3 phase Juice Booster 2 or KHONS cable, the Tesla GEN2 UMC to 3 phase tail is a plan D and should NOT be used on Nullarbor 3 phase outlets unless you're desperate.
I can not stress how important it is to follow the mantra of ALWAYS BE CHARGING, do not cut your charging session short at a working charge point because you think the next one is faster or cheaper.
Telstra is the only choice for any chance of phone reception (of course if you fit in your roaming Starlink dish you're king of the Nullarbor). Even carriers using the Telstra network do not work.
Keep yourself busy and the charging time won't appear so slow, Nullarboring is a term used by people with no imagination.
Have the BOM app on your phone – The air temp and wind direction can have a big effect on your range, plan ahead and add more charge than you require to be safe.
Take a relaxed attitude about the facilities, most of the infrastructure is pre 1976, it's generally clean but worn out. Producing clean water, electricity and keeping everything operational is expensive due to being so far from a capital city so don't expect much value for money. Take note that due to staff shortages most locations have cleared up the dishes, closed the bar and hopped off to bed far earlier than you expect.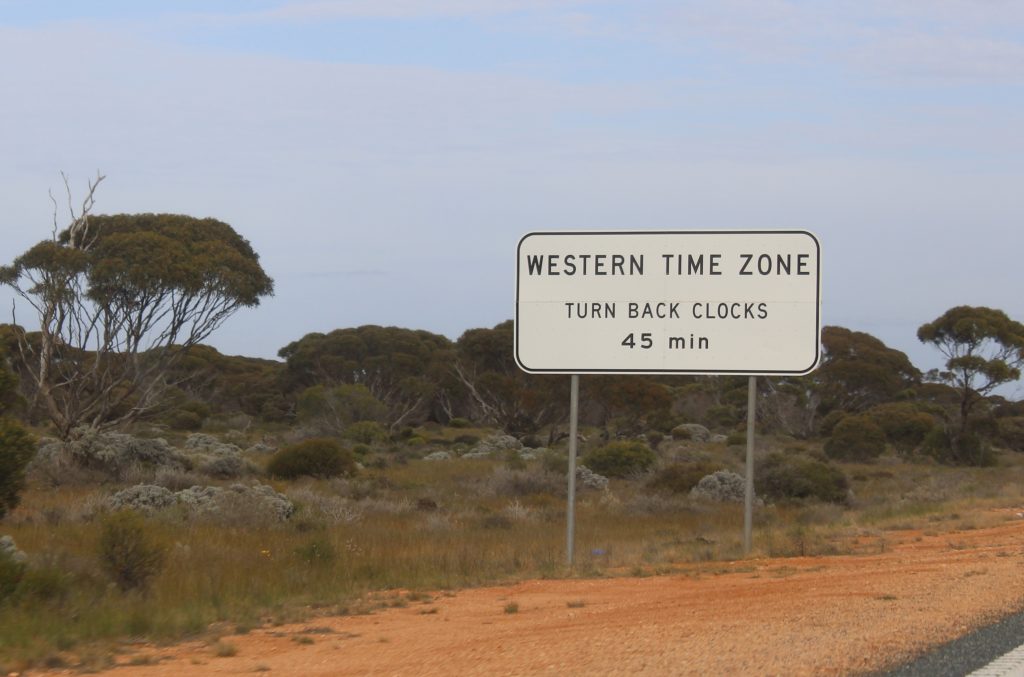 Wear a Diplomatic hat – like much of the country, regional areas are struggling to find staff, those on site are working long hours, you are one of a hundred customers that day. Keep in mind by allowing EVs to charge Roadhouse management are doing you a favour rather than making a profit from selling electricity.
Understand that some new staff members have no idea the business has a charge point, it can be a interesting conversation.
Leave early arrive early, getting on to the road just before sunrise is a great way to start the day, plan your first charging stop for a late breakfast. Traffic is almost non existent in the early morning, visibility is good and it's easier to spot wildlife. By late afternoon it's best to be parked up with the car on charge while the rest of the tourists are frantically racing to their next destination while driving into a blazing sunset with no hope of seeing a Roo about to smash the headlights.
Take into account as you drive east you'll lose an average of 15 minutes of daylight every 400kms, on the drive west you'll gain 15 minutes.
Be very aware of the change in time zones as the Nullarbor also has its own AWCT time from Cocklebiddy to the WA border, you may roll up to a Roadhouse thinking its 6.30pm when it's actually 7.15pm and the staff have locked up for the evening.
What not to do:
Do not plug in without seeking permission, if you have a passenger get them to go seek out a staff member while the driver parks up and gets the cable ready.
Do not Hypermile, it's not necessary with the biggest gap between chargers being 200kms. It may be okay to drive slower in the early hours of the morning when the roads are virtually free of traffic but during daylight hours anything less than 90kmh has the potential to aggravate other road users.
During overnight stops don't try and charge too fast if you don't need to, plan to have your car finish charging just before expected departure. If you charge at the highest rate and the breaker trips during the night you may not realize and could end up wasting time in the morning.
Do not turn off the air conditioner on warm afternoons, a warm interior reduces driver concentration, set the aircon to 22.5C and all will be fine.
Do not drive fast through the RH car parks, most are Limestone and can be in poor condition with cavernous potholes that are difficult to see, on most occasions it's less than walking pace or you may end up rattled.
Don't plan to drive too far in one day especially if you've booked accommodation in advance.
Port Augusta
It's difficult to understand why PA doesn't have DC chargers considering its on a T junction of 3 busy highways. There's two AC charging options in town, we prefer to use the Majestic Apartments that are centrally located and very secure. The accommodation is very nice with washing machines and dryers in the rooms. Although it's not necessary to be a guest to use the Tesla HPWC it's wise to ring at least half a day in advance, ask permission and provide an accurate arrival time, that way the staff will place a witches hat in front of the car charger and open the security gates when they see you pull up. Reception normally refuse payment, a big thank you and some quality chocolate won't go amiss though. Coles, Woolworths and Big W are all within 200 metres so you can stock up before heading west.
Kimba
Milton tyres has been generously offering EV charging since May 2016, they recently upgraded to a 32amp three phase outlet that makes charging even easier. Payment is dependent on the length of stay. Keep in mind that unless prior arrangements are made this service is only available during business hours Monday to Friday.
Poochera
This town is almost deserted but it has gem of a little old country pub with a 3 phase 32amp outlet that's easy to access. The bad news is the Pub doesn't open to 4.00pm, the good news is you can ring ahead and arrange payment via BSB. Jeff and Karen have kindly offered this service since May 2016 after a visit by WA Tesla owners Matt and David.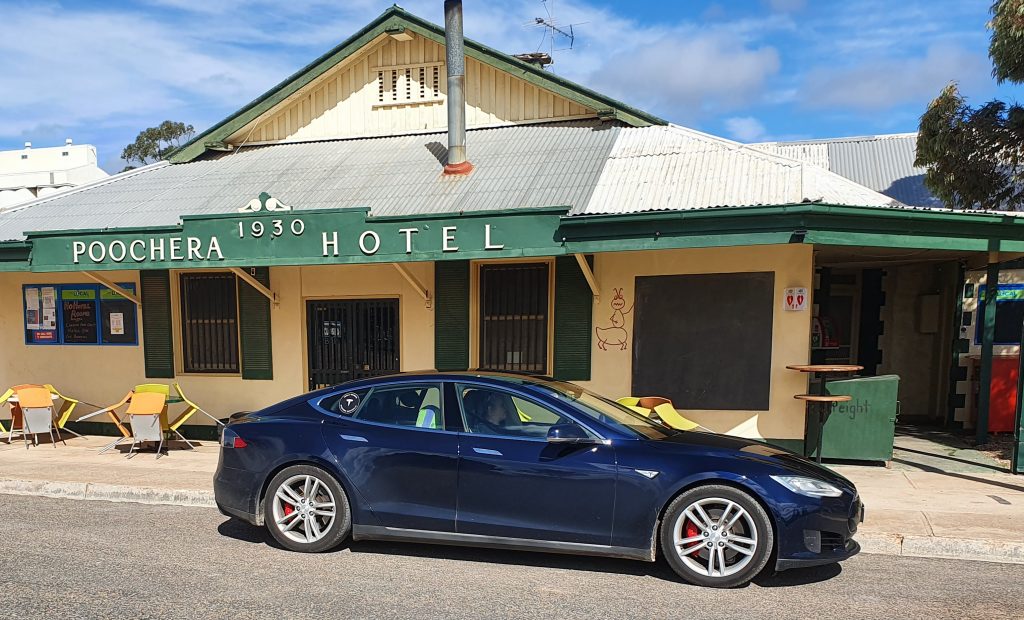 Ceduna East-West Motel
There's two Tesla HPWCs with handy parking, payment is currently $25 at reception before plugging in. I highly recommend you take the 10 minute walk to the Ceduna Foreshore Hotel for a meal.
Penong Caravan Park
This location has handy 32amp 3 phase outlet located in the centre of the Caravan Park, payment is a $10 service fee plus 40cents a kWh, the service fee includes the use of the facilities such as showers and camp kitchen. Penong is another example of friendly South Australian country people making up for the lack of government support emanating from Adelaide.
The Nullarbor Roadhouse
The 3 phase outlet is on the rear of the main building to the left hand side as you look from the road, payment is $30 via the Cafeteria. Add plenty of extra charge at this location as a coastal headwind driving west could leave you struggling to get the next charge point.
Border Village
As you may see from Plugshare comments Trevor is the go to person at this location, ask for him at reception and he'll guide you around to the rear workshop. Charging is strictly limited to 20amp 3 phase, that's okay if you have a model 3 or Y drawing 3 x 16amps but it's also where the Tesla Gen2 UMC to 3 phase tail comes unstuck, charging at 20amps single phase is unnecessarily slow. Charging is complimentary in the hope that you'll sit down for a meal or stay overnight.
Eucla
This site is no longer allowing EV charging.
Mundrabilla
This site has a 32amp 3 phase outside one of the motel rooms, payment is $40 all you can charge but management would much prefer charging in daylight hours or at least avoided between 9.00pm and 6.00am due to the electricity system they have in place.
Pro tip- Stand just inside the roadhouse doorway to gain Telstra reception.
Madura Pass
The good news is Madura has a crowd funded 22kw DC charger in the old garage next to the fuel bowsers, the bad news is that due to staff shortages the garage door is only open from 7.00am until 5.00pm. I would advise not to arrive in the late afternoon as at 5.00pm the power is switched off, the doors closed and the fuel attendant rushes off to serve food in the bar, such is life on the Nullarbor currently. Be aware that all but one of the staff at Madura are extremely friendly, unfortunately one has an allergy to Electric Cars and is best left alone. Payment is a donation to the RFDS.
Cocklebiddy
An easy 32amp 3 phase to find, right next to the large Eagles cage with a sign that says TV outlet. The sit down meals here are always worth a try. RFDS donation for payment.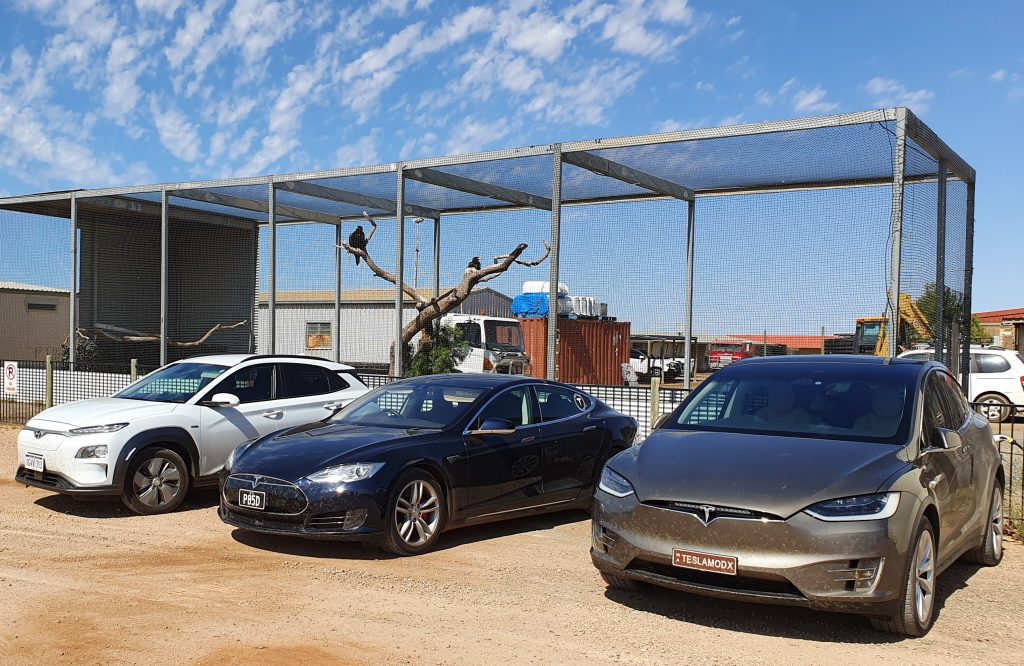 Caiguna Roadhouse
This location has the famous Biofil DC charger that was installed in January 2022, this 50kw unit is powered by a converted diesel generator that consumes used cooking oil from the roadhouse kitchen. Despite some difficulties with solidified fuel on cold winter mornings the Vegpod has served its purpose by encouraging the WA state government to extend the DC charger network across to the WA border. Payment is a $50 service fee plus cost for energy used, staff are required to start to unit. Update 5/11/2022: Nullarbor Roadhouses are still struggling to find staff, Caiguna employees are extremely busy and will start the generator if you contact them well ahead. My suggestion is to avoid stopping here for a DC charge until their circumstances improve. By all means stop in and grab some food and drink or charge from 15 amp overnight.
Balladonia
At the rear of the western side of the main building is another crowd funded 22kw DC charger, the payment is $1.00 per unit as recorded on the DC chargers screen. You will need to go into reception first to get a key. Be patient and follow the instructions exactly or the whole 2 minute process will have to repeated. Be warned, don't skimp on charging here because it's $1 a unit and the next location is a flat fee for all you can charge, that method may leave you short of range and possibly stranded.
Norseman
Ring at least half a day ahead during shire office hours and arrange the $37 payment via BSB or dropping into reception (a 7 minute walk from the 3 phase outlet at the oval). Make sure you provide contact details and your number plate as one or two greedy EV owners have plugged in without prior arrangement. If you walk for 4-5 minutes directly east from the oval you'll locate some public toilets and a laundry.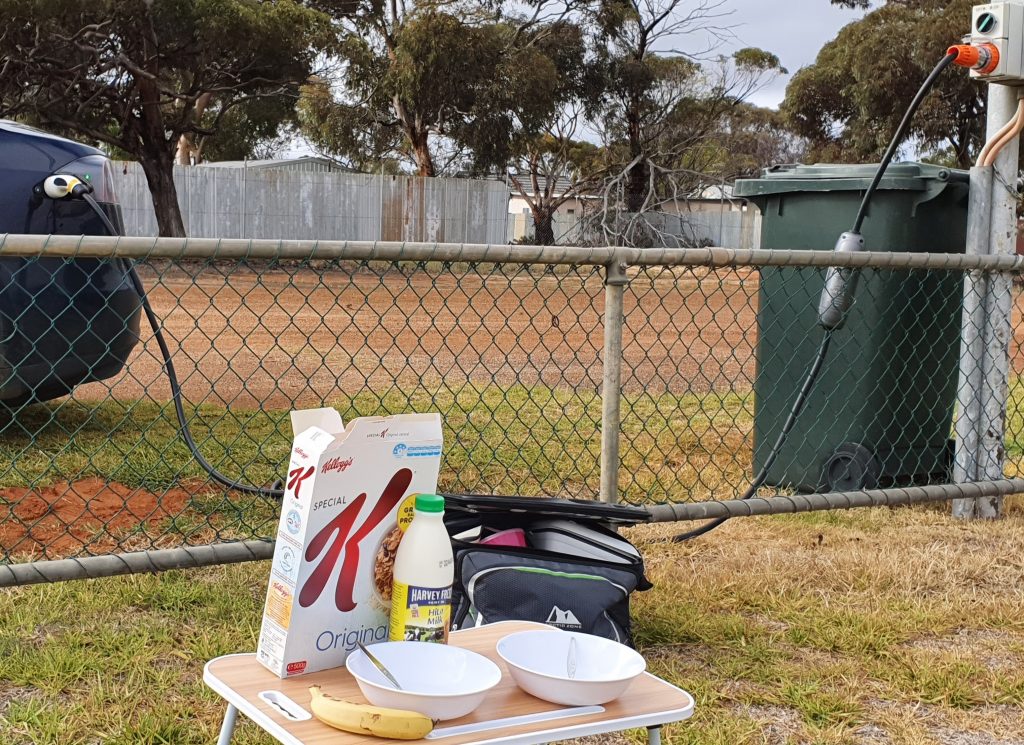 Rob and Robin have crossed the Nullarbor 5 times in their Tesla Model S and charged at each location multiple times.